The Beginning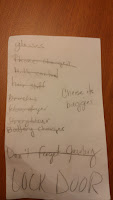 The February West Coast Neutral Uke Hotel / Golden Bloom / The Michael J. Epstein MiXXXtape tour was amazing! Originally, I was slotted to open all the shows solo, but I managed to convince the amazingly talented players of Neutral Uke Hotel and Golden Bloom to join me on stage. Shawn Fogel suggested the ad-hoc band receive the moniker, The Michael J. Epstein MiXXXtape – as we were playing musical selections from The Motion Sick, The Michael J. Epstein Memorial Library, and Darling Pet Munkee.
I left my house on no sleep at 3 AM to get on a 5 AM flight to San Francisco (via Charlotte, NC). I knew the tour was off to a good start when they didn't send me through the x-ray back-scatter scanner (so I didn't have to opt out and be groped)! While waiting for the boarding call for the flight, a young woman sitting next to me ran off, leaving behind this to-do list. I find these sorts of things really fascinating – shopping lists, to-do lists, and really anything where someone has made notes for themselves. She forgot her "Cheese its baggies" (sic) and she didn't even lock the door! Luckily, and most importantly, she had everything that she needed for her hair!
Sure, I might be selling this young lady out a little, but I realized that no one is free from the prying eyes of the world…we got paparazzied at the airport! https://twitter.com/#!/overvision/statuses/169791755489771520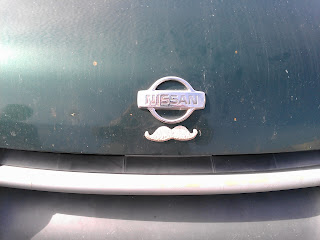 Parking lot of Guitar Center outside L.A.
Our travels brought us to San Francisco where we met up with NUH drummer Andrew Laubacher, a resident of SF. He brought us for some food, for a sit in the park, and pointed us in the right direction so that I could buy a new cell phone. My phone was on its last legs and had no working camera. I wanted to be able to get a new phone to take the fine photographs you will see throughout this post! That evening, we went to see Andrew play a show with both Kelly McFarling and Goodnight, Texas. I also ate an AMAZING Maize'wich at Pica Pica!
We got up the next day to go to L.A. while Shawn panicked a little about why his Golden Bloom merch box had not turned up. I made a "documentary" about the missing merch! My merch box containing CDs from all of my projects had arrived safely. SPOILER: Shawn's had too! The neighbor just had signed for it.
We had a 5-hour rehearsal in a neat space that Andrew had worked out for us. Everyone learned all of the MiXXXtape songs there! We wrapped that up and in order to cut the drive the next day…we're off toward L.A.
One theme of the entire trip was stopping at virtually every single Guitar Center we could find – not because we wanted to, but because we kept needing little things. We started betting on how long it would be before someone said, "Hey man!" to one of us after we entered the store. Average time: 12 seconds.
Now onto the shows (with videos and photos)…

Los Angeles – The Echo


Every time I've been in L.A. (which is now twice), I have had the same experience. I begin feeling like I love the city and it would be a great place to live…and then I get in a car and get stuck driving for 3 hours to go 15 miles. We drove all the way West out toward Santa Monica to visit Cordoba Guitars. They very kindly gave us some ukuleles to give away at the shows! Our long drive made us miss sound check, much to the (understandable) unhappiness of the fellow doing sound, but he seemed to warm up to us as the night went on.
We performed a couple of songs in their showroom – videos: Holy Ghost and If You Believe
They wrote about us a bit: http://www.cordobaguitars.com/archives/911 and posted this summary video:

The show was a blast. Great turnout, great enthusiasm. A lot of fun!
I was not allowed to record video at the show, so I don't have much to offer. It was the first MiXXXtape performance, so it was definitely rough around the edges, but I got a lot of positive feedback after the show!
The Michael J. Epstein MiXXXtape Setlist: Grace Kelly (solo), Stranger (solo), Civil Engineering, Holy Ghost, Winged Bicycle, Amylee, X-Ray Specs, Sea-Monkeys
Neutral Uke Hotel video: Two-Headed Boy
We were delighted to share the evening with Miracle Parade! A not-so-great-quality video I took with my phone: http://www.youtube.com/watch?v=QaEF3LNwKms (better recording from another show: http://www.youtube.com/watch?v=fQ6UkryASxQ )
I am most disappointed that although lots of video was seemingly taken, I cannot find any posts containing the fellow that decided to climb on stage wearing a horse-head mask and perform interpretive dance. We were a little weirded out at first, but it was an "interesting" experience – presumably associated with this meme.
Some more photos:
https://www.flickr.com/photos/brudy/sets/72157629373554207/​
Because there's nothing like a 3-hour drive down a 15-mile stretch of road, I grabbed some photos along the way of whatever caught my attention.
The Echo

People gathered outside hotel where
Whitney Houston died

Using the popularity of vampires to encourage people
to get STD testing done. I would have preferred wizards.

Miracle Parade with choir and string quartet!
First things first…what is it about California that inspires people to get on stage and become part of the show? First, our horse-dancing friend (again, I hope we do find some video eventually, but none yet available…) and now in SF, this drunk fellow decides that during the final song of the Neutral Uke Hotel set, when our snare player has left the stage, it would be a good idea to hop up and play along. What? Shawn politely tries to get him to fade out for the poignant ending, but it was quite a challenge…
From another angle: http://www.youtube.com/watch?v=aMj3muXO0_0&context=C43f69f6ADvjVQa1PpcFNwKohTGYXRTytfqMGcGXAfPsLQ-IFwZwQ=
Other than that strangeness, the show was again a blast. The staff at Hotel Utah were incredibly nice to us and we had another grand evening! We also did a fun interview with a couple of DJs from KALX. I couldn't find it posted anywhere, but will add it if I do. I didn't get a lot of great video from the night…
NUH Videos: Holland, 1945, Oh Comely, Two Headed Boy Part Two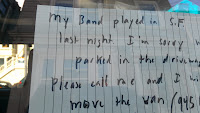 The Michael J. Epstein MiXXXtape Setlist (some video linked): Grace Kelly (solo), Stranger (solo), Civil Engineering, Holy Ghost, Winged Bicycle, Amylee, X-Ray Specs, Sea-Monkeys
After the show, we stayed at Andrew's place and parked our van blocking his building's garage/driveway. We figured it would be unlikely that anyone needed out early on Sunday morning. He left a note offering to move the van if necessary. We tried to prank him on it (see video below), but he didn't fall for it…ah, tour antics!
Day Off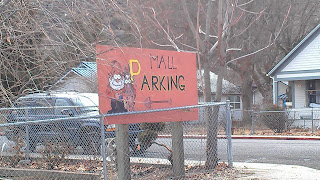 We had a long drive to get to Eugene, so we took the day off and drove. We encountered some strange things on the road and then we stayed in Yreka, CA, which turned out to be pretty unpleasant in many ways. It was challenging to find food. The most highly recommended place, Grandma's House, yielded Yelp reviews including:

" Use real butter. I doubt the butter flavored yellow oil product you drown your dishes with existed in your day, and if it did, I'm sorry wartime belt-tightening solutions left you embittered enough to inflict the same trauma you experienced on your hapless diners.

 What was curiously missing from everything you offered, was salt. Despite the greasy yellow slick beneath each component of the meal, everything was completely unseasoned. To boot, the country fried steak, and accompanying gravy were cooked at too low a temperature, leaving both unpleasantly gritty. Even the toast was rendered inedible thanks to the mystery butter-flavored product. Grandma, you should at least be able to make toast.
Shouldn't you?
I'm sorry I won't be visiting again. I probably won't send anything for Christmas either. I thought about getting you a throw pillow with a sassy menopause joke cross-stitched on the front, but it looks like you already have plenty of those."
" So very bad. Expensive too. My little one has been throwing up the spaghetti and meatballs for the past hour. Taco salad had raw burger, my turkey dinner is sitting like lead in my belly. Wish we had gone anywhere but here. Maybe breakfast is ok, but avoid everything else.
Waitresses were kind. "
Anyway, we decided it was best to not give it a shot. We headed to a pretty mediocre Mexican place where they spilled an entire glass of water on Matt after about 1 minute at the place. Not a great experience let's say!
At least while leaving town the next day, we got to see some closed shops with anti-Obama birther propaganda claiming he is a Muslim. "Allah says no birth certificate required." Yreka…as in Y the hell are we in this town?!?!?!
Someone had covered our smoke detector with plastic,
presumably to smoke illegally

Interesting spelling
My Yreka review: stay away.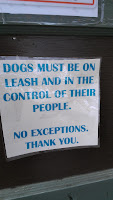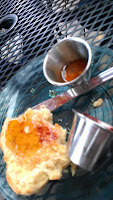 After a night in Yreka, arrival in Eugene was very pleasant. A good music store, a nice record shop (where I got a pig kazoo), and a coffee shop with some great coffee and a vegan biscuit set us back on track…
It was bit dreary and rainy, but Eugene seems like a great little place. Sam Bond's was a nice room. Again, the staff was very nice to us. We had the lightest crowd of our tour, but it was not bad really. People were even courteous about the fact that they had cancelled some kind of dirty bingo night that they usually host on Mondays in favor of our show!
Phishbeard very kindly recorded all of the sets for the evening and posted a review at: http://concertconfessions.com/2012/02/neutral-uke-hotel-covers-a-classic-at-sam-bonds-garage-in-eugene/
Phishbeard's full playlist of  The Michael J. Epstein MiXXXtape Set: Grace Kelly, Walk on Water, Civil Engineering, Holy Ghost, Winged Bicycle, Amylee, X-Ray Specs, Sea-Monkeys
Golden Bloom's full playlist, again via Phishbeard

(some alternate video takes that I shot) Rhyme the Reason
The Mob
Theme for an Adventure at Sea
The Fight at the End of the Tunnel
You Go On (& On)
Without the Money
If You Believe
Fan the Flames
EHM
We Have Grown
Again, from Phishbeard, a full NUH playlist – probably my personal worst performance of the tour, but still a good document of what we were up to!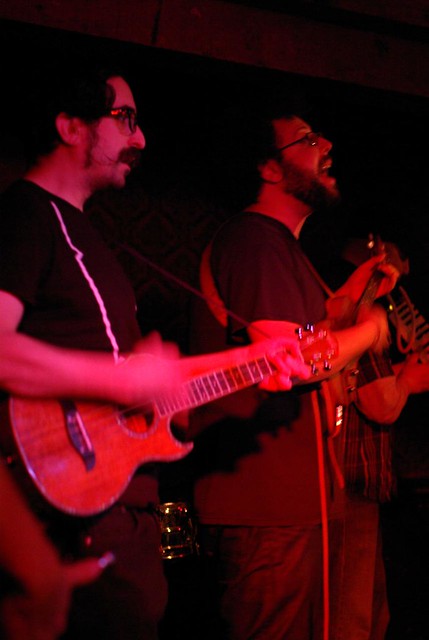 Seattle – The Sunset TavernYet another total blast of a show!
Photos from:
http://www.flickr.com/photos/fiveminutebreak/6775301758/in/photostream/
http://fiveminutebreak.livejournal.com/481986.html
We also did a rad interview with My Northwest before the show – Listen here!
Videos of the night:
NUH
KOCF Part 1In the Aeroplane Over the Sea (2), (3)
Two-Headed Boy
Two Headed Boy Part 2
Ghost
The Michael J. Epstein MiXXXtape Setlist
Grace Kelly
Walk on Water
Civil Engineering
Holy Ghost
Winged Bicycle
Amylee
X-Ray Specs
Sea-Monkeys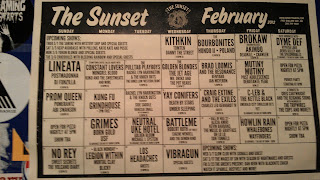 Portland – Mississippi Studios
The thing I cared about most for this entire trip was having a chance to go eat doughnuts at Voodoo Doughnut! They have an incredibly decadent selection of the best vegan doughnuts anywhere in the known universe. Nothing else even comes remotely close. We went there first upon arrival in Portland. I immediately proceeded to eat 3 doughnuts and drink some great Stumptown coffee. Everyone laughed at me. I didn't care.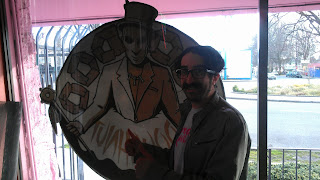 We also stopped in to the
Pro Guitar Shop
after, which was really excellent.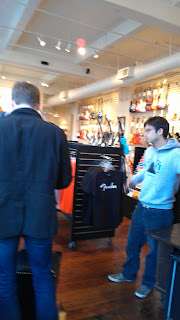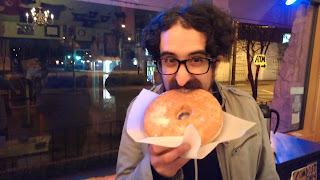 2 AM Doughnut!!!
The Portland show was definitely the most fun. Maybe it was just that it was last and we felt most comfortable…but I think it actually was that we received an amazingly warm welcome from the attendees. In fact, we sold a ton of merch before any of the bands played a note – there was just a general sense of enthusiasm and support about the show and the room was really nice and sounded really good. All of the dates were a lot of fun and the people were really kind to us everywhere, but it was just a blast to cap it all with Portland! After the show, we returned to Voodoo and I ate the most giant doughnut ever! I didn't get any sleep before heading to the airport at 4 AM!
Neutral Uke Hotel video:
The Michael J. Epstein MiXXXtape video:
Grace Kelly
Walk on Water
Civil Engineering
Holy Ghost
Winged Bicycle
Amylee
X-Ray Specs
Sea-Monkeys
Can't wait to do it again in April on the East Coast!!!!