What do you do when you're a crazy bunch of people traveling in a 15-passenger van across the country? You record two sessions – one for Daytrotter.com and one for Laundromatinee.com – 6 hours driving apart, on the same day.
(DAYTROTTER SESSION AVAILABLE HERE!!!)
(LAUNDROMATINEE SESSION AVAILABLE HERE!!!)
I'll bombard you mostly with photos of our day:
Daytrotter
is one of my favorite things in the world! From a previous description that I had written: for anyone that doesn't know about
Daytrotter
, it is an amazing site that houses unique recording sessions captured at the site's studio, Horseshack in Rock Island, IL (
Wikipedia article
). The sessions are done direct to 2-track tape with no overdubs, edits, etc. So, you get some real insight into how bands play and interact when you hear these things. I've been a long-time fan/session downloader and I am amazingly proud to have had the opportunity to be part of it. In addition to recording a bunch of songs, the folks at Daytrotter have an artist draw you. I love the style of the drawings and am really looking forward to seeing how we come out on paper.
I like a lot of the more obscure sessions, so check out stuff you've never heard of, but some name notables and awesome indies that have visited the Daytrotter folks include: Aimee Mann, Ani DiFranco, Avett Brothers, Bob Mould, Casiotone for the Painfully Alone, Colin Hay, Deer Tick, Frightened Rabbit, Fucked Up, Ian McCulloch (Echo and the Bunnymen), Langhorne Slim, Mates of State, The Meat Puppets, Metric, Okkervil River, The Rentals, Rock Plaza Central, and Tori Amos.
We recorded a Neutral Uke Hotel / Golden Bloom / The Motion Sick session last Summer (released in December) and it was a total blast!
Here's a little quick recap of our visit/session recording. It starts with us recording our Daytrotter ID. Then, we're rehearsing a couple of songs in the studio as the space is set up to record us.

On to the photos! They take a Polaroid picture of you to help as a drawing reference. I guess this photo will be sold or given away to a lucky DT fan!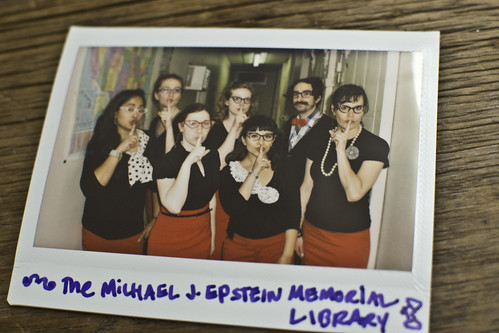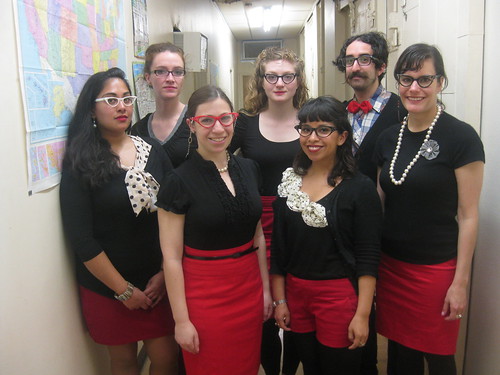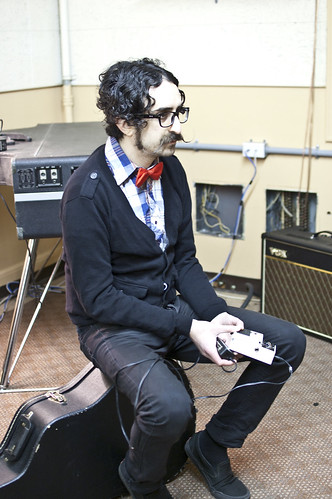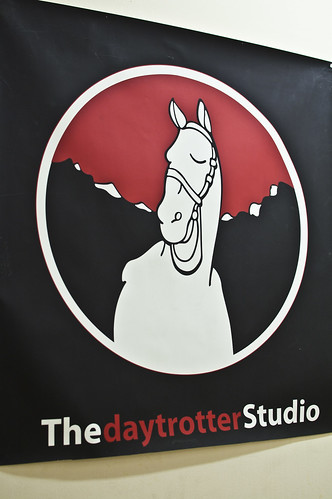 Reading material in the lounge!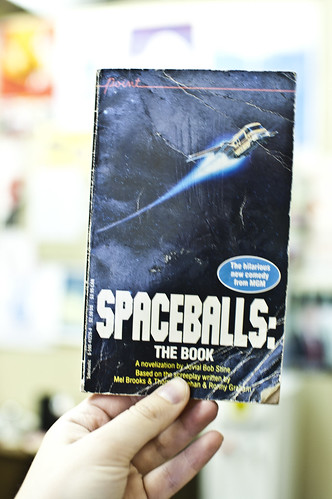 …and Sonic the Hedgehog!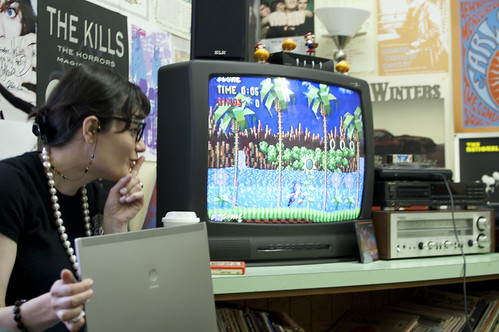 ---
After Daytrotter, we drove many an hour to Indianapolis to record a Laundromatinee video session. Laundromatinee is one of my other favorite things in the world! To do both of these sessions on the same day was nothing short of amazing!
I had previously met Jeff DuPont, who did the recording for Laundromatinee when The Motion Sick recorded a radio session for WEEM in Indianapolis in 2008. Interestingly, this was also the day that I first met Lisa Battiston, MJEML bassist (though Kelly Davidson was subbing on the current tour) back when she was a member of The Peggy Sues, a band sharing our bill that evening in 2008.
While the Horseshack is a rad place, it has a hard time competing with The Spa at French Pharmacie! This spa/salon was selected for the session and it was pretty much the most awesome place on Earth! We rocked out in front of salon mirrors and in hair-styling chairs. We chilled in massage chairs and just had an all-around awesome time!
Thanks to everyone involved with Laundromatinee and French Pharmacie for making the evening an awesome one and for tolerating our terrible lateness in arriving!