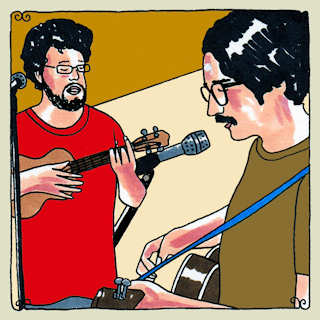 Illustration by Johnnie Cluney
I posted a while back about our visit to Daytrotter. Now, I am absolutely delighted to say that our session has been posted! For anyone that doesn't know about Daytrotter, it is an amazing site that houses unique recording sessions captured at the site's studio, Horseshack in Rock Island, IL (Wikipedia article). The sessions are done direct to 2-track tape with no overdubs, edits, etc. So, you get some real insight into how bands play and interact when you hear these things. I've been a long-time fan/session downloader and I am amazingly proud to have had the opportunity to be part of it. I like a lot of the more obscure sessions, so check out stuff you've never heard of, but some name notables and awesome indies that have visited the Daytrotter folks include: Aimee Mann, Ani DiFranco, Avett Brothers, Bob Mould, Casiotone for the Painfully Alone, Colin Hay, Deer Tick, Frightened Rabbit, Fucked Up, Ian McCulloch (Echo and the Bunnymen), Langhorne Slim, Mates of State, The Meat Puppets, Metric, Okkervil River, The Rentals, Rock Plaza Central, and Tori Amos.
In addition to recording a bunch of songs, the folks at Daytrotter have an artist draw you. I love the style of the drawings and was looking forward to seeing how I would come out on paper. I was not disappointed one bit! The reviews of the session that have popped up have been very positive thus far as well!
It was really exciting to get a chance to do a mix of songs with Shawn Fogel and Josh Cohen. They performed 2 Golden Bloom songs and then I joined them to perform 2 Neutral Uke Hotel songs and 2 The Motion Sick songs.
On the site, you can download the session in 128 kbps MP3 format or buy the uncompressed version! Check it out: http://www.daytrotter.com/dt/neutral-uke-hotel-golden-bloom-the-motion-sick-concert/20031370-51544.html
As a taste, here's an embed of "Holland, 1945"