We had mentioned a while back about The Michael J. Epstein Memorial Library's visit to Daytrotter's Horseshack studio in Rock Island, IL (more photos, videos, and info here)! (I had also previously done a Neutral Uke Hotel / The Motion Sick session and, we recorded a Laundromatinee session later on the same day as we did Daytrotter.)
If you are not already a Daytrotter member, you can get a free one-week membership, no payment method needed!
Well, now our session is here for your listening pleasure! The sessions are done direct to 2-track tape with no overdubs, edits, etc.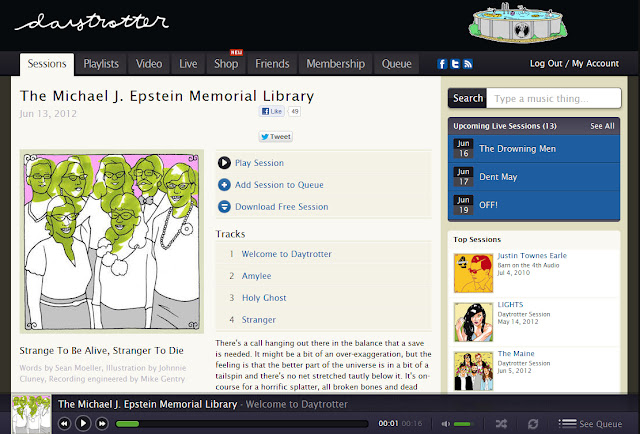 "There's a call hanging out there in the balance that a save is needed. It might be a bit of an over-exaggeration, but the feeling is that the better part of the universe is in a bit of a tailspin and there's no net stretched tautly below it. It's on-course for a horrific splatter, all broken bones and dead expressions. The impact is going to kill it. It's falling, screaming its jiggling face off – and no one's hearing a thing. The folks in the band Michael J. Epstein Memorial Library sound like the saviors that we might need to pull hard on the reins and get the graffiti-ed and pissed upon universe out of its own destiny. They insist that they think they can shine brighter than a billion solar bursts. They're damned sure of it…" (…MORE)