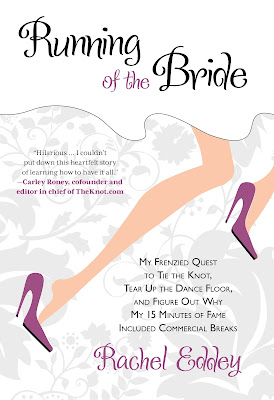 I've mentioned before that my sister was writing a book about her crazy wedding experience involving a proposal on the set of the Sex and the City movie and two reality shows (Say Yes to the Dress and Rock the Reception). I'm mentioned in it a few times, you know, as the greatest brother in the world and stuff like that.
Well anyway, now the book is here! It is published by Skirt! Books, an imprint of Globe Pequot Press. The glowing reviews have been pouring in (1, 2, 3, 4, 5)! Get yourself a copy for some insight into my family (not my fault). Also, Jodie Sweetin (Stephanie Tanner on Full House) likes it!
Amazon – Barnes and Noble
Powell's – Other


[Rachel Eddey's Web Page] [Facebook] [Twitter] [Contact Rachel]
"Funny, smart, and an excellent writer, Rachel Eddey gives Jen Lancaster a run for her money as she races with sarcastic wit and whine all the way up to the altar. … She holds her own, though, with her own style, a little bit sweet and a little bit sassy. She paints one vivid satirical vignette after another … Completely hilarious." —A Frugal Life
"A funny, breezy romp through Manhattan wedding mania." —Susan Shapiro, author of Five Men Who Broke My Heart


"A laugh-out-loud peek into the mind of a crazed bride. . . . Truly a great read!" —Jodie Sweetin, Full House actress and author of unSweetined


"From the very first page of her hysterical memoir, she keeps us in stitches." —Amber Benson, Buffy the Vampire Slayer actress and writer/director


"A fast read, full of funny and often heart-warming moments. . . . Compelling." —Dan Konopka, drummer for OK Go


"Hilarious … I couldn't put down this heartfelt story of learning how to have it all." —Carley Roney, cofounder and editor in chief of TheKnot.com
When Rachel's handsome studio exec boyfriend proposes on the Sex and the City movie set, she can't fathom the dizzying adventure ahead. Accepting a once-in-a-lifetime venue deal helps their budget but puts them on a crash course to get married in just four months—and time isn't their only challenge. They battle a wacky host of vendors, including a hair stylist who fakes a car accident and a makeup artist channeling Marilyn Manson, all while testing their love amid tastings and tulle.
Using her nervous energy productively, Rachel enters every contest she can find, winning diamond earrings, a honeymoon, a photographer, and two wedding gowns. Her pop culture obsession lands the wedding party on two hit reality TV shows. There's just one problem as the clock ticks down: Her staunch perfectionism and fear of dancing threaten to derail everything. She has to redefine perfect and embrace the mistakes—or risk losing it all.
Please take your seats. The wedding is about to begin.
While Rachel is the latest in my family to get her work published, my father and mother are both published authors as well. In fact, Rachel's book almost as much of a page-turner as my books, Invasion of the Burrowers or I'm Getting Sweaty in Here! (or other embarrassing things from our youth)!!!