Blood of the Tribades
2015 was the year of vampires! We spent much of the second half of the year shooting and doing pre-and-post production on our third feature film, Blood of the Tribades. Shot over 10 days, it tells the story of a future-past vampire society at a precipice. The film stars over 30 amazing (mostly) New England based artists and weirdos (cast bios). Blood of the Tribades production blogs (many photos!)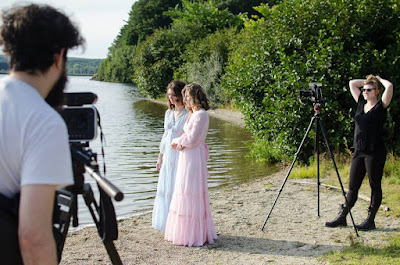 photo on set of Tribades by Rachel Leah Blumenthal
Magnetic
2015 was also a very good year for Magnetic, which had a great festival run (and even won some awards) and got a write-up in SCI FI Magazine!
Boston Underground Film Festival 2015 (Boston, MA) – World Premiere
Motor City Nightmares Film Festival 2015 (Novi, MI) – Winner Best Sci-Fi Feature
Sanford International Film Festival 2015 (Sanford, ME) – Winner Best Music and Score (Also Nominated for Best Feature, Best Editing, and Exceptional Acting)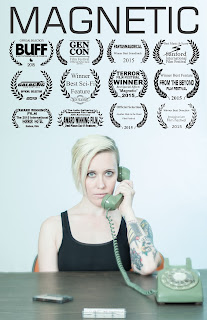 Horror Hotel 2015 (Cleveland, OH) – Winner Runner-up Best Sci-Fi
GEN-CON 2015 (Indianapolis, IN) – hear a female filmmakers panel Sophia was on at GEN-CON!
Fantasmagorical 2015 (Louisville, KY) – Winner Best Soundtrack and Honorable Mention: Sci-Fi Feature
From the Beyond 2015 (Chicago, IL) – Winner Best Feature
Indie Gathering International Film Fest 2015 (Hudson, OH) – Winner 2nd Place Sci-Fi Feature
Galactic Film Festival 2015 (Los Angeles, CA) – Nominated Best Screenplay
Imaginarium 2015 (Louisville, KY) – Winner Best Direction, Runner-up Best Genre Feature, Runner-up Best Plot Development, Runner-up Best Character Development
Terror Film Festival 2015 / Claw Awards 2015 – Winner Best Special Effects, Nominated Best Feature, Nominated Best Director
Another Hole in the Head 2015 (San Francisco, CA)

Magnetic has also been picked up for distribution! Devolver Digital Films will be handling Video-on-Demand (VOD) and Wild Eye Releasing will be handling DVDs and cable television. No dates yet, but we are guessing that the digital release will roll out to most platforms over the next few months with DVDs arriving around Summer!
TEN
TEN, our first feature, was widely-released this year via BrinkVision (you can even get a combo book-DVD deal here!). It's available on many platforms (including AmazonPrime, GooglePlay, Vimeo and more!). We also released a behind-the-scenes feature on the making of TEN – which might be interesting to those of you who like insanity and/or low-budget filmmaking! We did some interviews with the cast of TEN to find out where they all were three years later!
Talking About Ourselves
We talked to (re)search my trash about making TEN, and we revealed many secrets to All Things Horror's Film Thrills podcast and Michael did a panel at Somerville Cable Access Television with Jonathan Case about indie filmmaking.
Short Films
The MFA commissioned us to do a short film about love for a special show in February – we came up with "For the Love of Metamorphosis" – a 'would you love me if…' question and answer film. It definitely goes some places!

https://mjeml.michaeljepstein.com/ also participated in the Boston 48-Hr Film Project (for the third time) this year, and even made it to the best-of screening with a harrowing film about a visit to the vampire dentist! MJEML was also named Best Alternative Rock Band in Boston by Itcher and once again served as the house band for The Encyclopedia Show Somerville!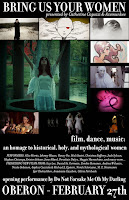 Bring Us Your Women
We were very heavily involved in organizing (an produced several music videos for) Catherine Capozzi's large-scale multimedia project that explored the roles of women throughout history and mythology called Bring Us Your Women. The project included a DVD of videos by a dozen directors and an insane live show.  Michael and Sophia each sang on a number of songs as well. We helped produce the movie, which is now also available for purchase! More info here.

Bring Us Your Women from Launch Over – Cacciola / Epstein on Vimeo.
Work on Other People's Films
FAT and It's Not Funny Anymore
FAT was released! Sophia had a small role opposite Mel Rodriguez a few years ago and the film is finally available! Hulu used her scene as a teaser for the film!
 We also spent a bunch of days this year doing sound on Mark Phinney's follow-up to FAT, It's Not Funny Anymore!
Planchette
Sophia had a role in and Michael did camera/sound on Pete Yagmin's film, Planchette!
trailer:

Innsmouth and Invisible Friend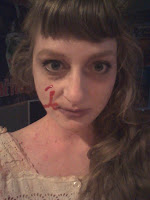 Innsmouth dead body
Sophia played a dead body and Michael did sound on Izzy Lee's Innsmouth starring Tristan Risk and Diana Porter.

Innsmouth Teaser from Izzy Lee on Vimeo.
We also did sound and camera on Izzy's film, Invisible Friend – watch here.

Invisible Friend from Izzy Lee on Vimeo.
We did some crew work on Izzy's film, A Favor as well.
A FAVOR – Teaser from Izzy Lee on Vimeo.
ONE
We did camera/sound/editing on Porcelain Dalya's directorial debut, ONE.

"One" from Launch Over – Cacciola / Epstein on Vimeo.
Hedgehog
Sophia spent all of October working as Assistant Camera 2 on Hedgehog, starring Madeline Brewer (Orange is the New Black, Hemlock Grove) and Ann Dowd (The Leftovers).

Michael and Sophia also worked on a few projects with Ungovernable Films (The Ungovernable Force and Gay Jesus) and Sleight of Hand Films (Are You Coming or What?).

The Women of Rock Oral History Project for the Smith College Archives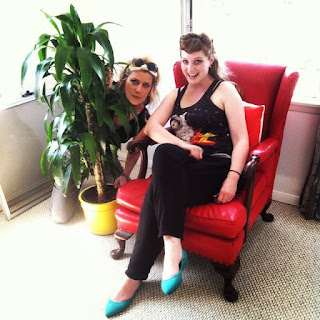 Sophia with Donita Sparks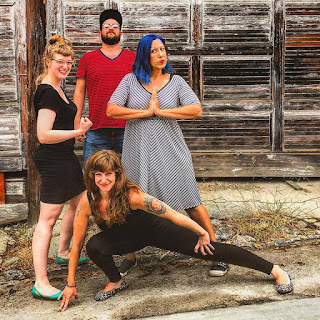 Sophia, Jason, Tanya and Alice Bag
Sophia got to go to Los Angeles to do sound/camera on two interviews (Alice Bag of The Bags and Donita Sparks of L7!) for Tanya Pearson's Women of Rock Oral History Project.
Aloud
Sophia starred in Aloud's music video for "A Little Bit Low"

MUSIC
Do Not Forsake Me Oh My Darling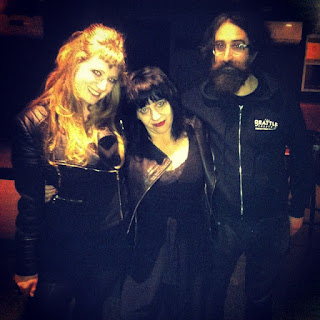 DNFMOMD with Lydia Lunch
DNFMOMD had a bunch of awesome gigs this year which included opening for
Lydia Lunch's Retrovirus
and opening a string of East Coast Alice Bag shows!
Drab
Drab got to be Alice Bag's backing band (including Sophia on bass!) for three shows (one of which we were joined by June from Fanny!!)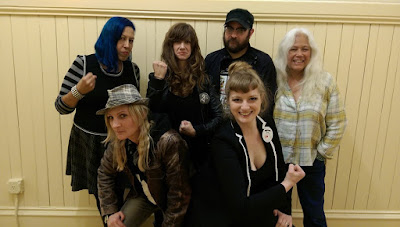 Alice Bag, Tanya, Hason, June Millington, Mora Precarious, Sophia
We also had the honor of playing the Boston-rite-of-passage tradition, the Rock 'n' Roll Rumble!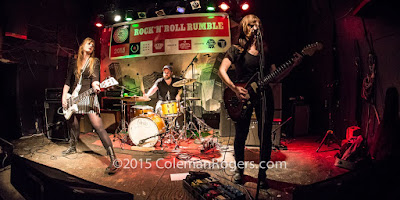 Other Stuff
We continued to occasionally host On the Town with Mikey Dee, to help out on the Steve Katsos Show (Sophia on camera and Michael as Film/Actor Producer and IMDB master), and we continued stealing energy from the sun. Michael was also interviewed by Boston magazine about the science of film scoring.
Looking to 2016…
We are excited about bringing Blood of the Tribades to festivals, seeing Magnetic released, and starting work on our fourth film, Albatross. We also plan to finally finish some in-progress recordings for several music projects! We both continue to be excited about working on films in numerous capacities and look forward to doing more acting work this year (so hit us up for that if you'd like!).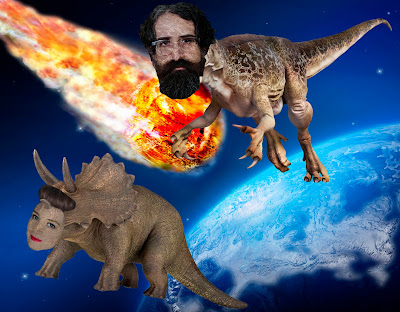 2015's Happy New Year card!
Past reviews