The Michael J. Epstein Memorial Library's "Amylee" music video has arrived! The "Amylee" music video is part of 2012's 12-part PROJECT A.M.Y.L.E.E. for which we will present various versions of "Amylee" including covers, remixes, and session recordings!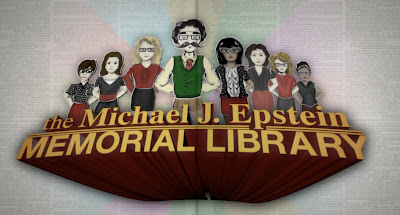 Most people are well aware that the Mayans prophesied the end of the humanity on Earth in 2012 via massive dolphin takeover. Few realize, however, that the dolphins of Earth shall be joined by their space dolphin relatives in two-pronged attack on the human race.



The Government has already decided to declassify enough information about the Dolphinspiracy/Dolphinpocalypse 2012 (i.e., the dolphins' 2012 takeover of Earth, as predicted by the Mayans) to reveal that The Michael J. Epstein Memorial Library has been recruited as a think tank to lead the battle against the dolphin invaders from space during their synchronous space/land two-pronged attack. The CIA, NASA, Homeland Security, NATO, and the United Nations have all teamed up to determine how to stop these invaders and to create as much documentation of the successes and failures of "PROJECT FLIPOFF." We have recruited documentary filmmaker Dan St. Germain to document our progress on the space front. We are delighted to reveal that the threat against humanity has been temporarily averted by an ally agent from the depths of the ocean.