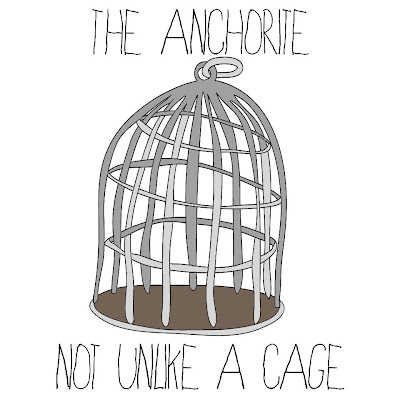 I am super excited to announce the release of the 2nd version of The Anchorite's Not Unlike A Cage. This full-cast version includes amazing performances by:
Narrator: The Anchorite
Jimmy's Mommy: Aly Spaltro (Lady Lamb the Beekeeper)
Jimmy's Daddy: Billy Hubbard
Roxy's Father: Jeremy Styles, Emily Hope Price, Jocelyn Mackenziex (Pearl and the Beard)
Jimmy: Jonathan David Heathcote
Peter: Tim Sullivan
Roxy: Anne Warnock (Pray for Polanski, Harris Hawk)
Pocket-Sized Agnostic: Webb Sandquist (The Lousy Instruments)
Cousin Giacomo: Asher Putnam (Bella's Bartok)
Girls at the Restaurant: Phoebe Marie Waldron, Candice Bancheri
This cast-vocal version is an exciting addition to the original version (with vocals performed by the Anchorite). Download them both!
Aviv Rubenstien (The Anchorite) may or may not agree precisely with everything I think or have to say about this record, but I think our discussions about what he wanted Not Unlike A Cage to sound like led to us working toward something fascinating. It's all about contradiction. It needed to be harsh and delicate; ugly and beautiful; loose/lo-fi/exciting and good sounding. There's lots of consonance and lots of dissonance. Crispness and crackle. Lots of perfection and lots of imperfection. The diversity of the styles of songs on the album, which tells the story of Jimmy and Roxy from birth to the end, is pretty tremendous. The lyrics are essential, but we wanted you to work a little for them when you listen. We're not giving you anything. You need to find it…you need to earn it a little. We wanted it to be an album you revisit. The arrangements are dense and fluctuating, even within a song.
The first song, "Fly, Fly" is kind of a country/gospel tune, but in a sense, would be too misleading to open with it in its obvious form. So instead, the song blasts you with harsh, middy guitars and vocals that require you to squeeze your ears just a little to catch every word. The harmonies are buried. You learn right away, this is not going to be a clean listen. You have to give a little throughout the journey all the way until the final song, "Not Unlike A Bird" hints at beauty, but grows into a washy mess until a final resounding hit.
I won't spoil too many details of the story or the songs, but I think the album makes for a really enjoyable listen. Sure, I am biased as I produced and engineered the record (with help from a few others including a lot of work by Sophia Cacciola, Reluctant Engineer).
We tracked everything except guitar, bass, piano, and accordion at https://mjeml.michaeljepstein.com/ recording studio in scenic Somerville, MA (i.e., our house). We were extremely excited to be able to get a bunch of members of the MJEML to contribute tracks to the record as well.
In addition to Sophia and I tracking, the following people paid a visit to the Library to contribute:
Rachel Leah Blumenthal played some amazing flute, bass flute, and oboe, which contributed some of the strangest and ultimately most essential texturing sounds to the album. She also sang on several songs.
Susannah P. contributed beautiful viola arrangements, playing essential parts on a number of songs, but really shining by serving as a one-person orchestra for "Over Normandy" (I think there are something like 20 viola tracks running through the song). Susannah also sang on several songs.
Tanya Palit provided her lovely signature harmonies and responsive backing vocals throughout the record.
Somerville Symphony Orkestar's Joel Edinberg played bari and tenor saxophone, giving subtly powerful texturing to "Dostoyevsky on the Train" and helping establish the shanty groove of "PT3."
Sophia Cacciola contributed the majority of the drums, much of the percussion, and some vocals.
For my own fulfillment (listing it here), in addition to engineering and producing, I got a chance to add to the arrangements with just a little of each of vocals, electric guitar, banjo, organ, drums (which was mostly hitting a floor tom, mic stand, and music stand with a mallet), sleigh bells, guiro, cabasa, and shaker.