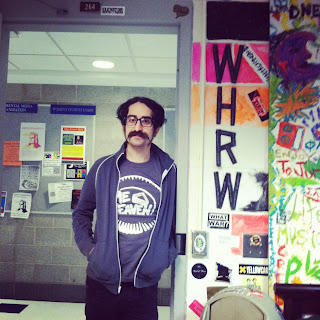 TODAY 1 PM
https://mjeml.michaeljepstein.com/ interview and performance on NEVER HOME RADIO with Marissa


;


Back in the mid '90s, I was taught of the joys of Electrical Engineering at a place called SUNY Binghamton (or as they want to insist it be called, Binghamton University). During my stay there, I involved myself with various nonsense, including playing in a few bands and wandering aimlessly around town, but nothing about my four years there has stuck with me more than my experience at WHRW, the free-form non-commercial radio station on campus. I started out playing mostly indie rock songs and eventually graduated up to making audio collage on my show, FREE UNCENSORED (a show that eventually extended to WRBB, Northeastern University's radio station). Even today, Sophia and I do the occasional On the Town with Mikey Dee slot on WMFO!
We had an awesome time visiting WHRW and want to thank the very kind staff who showed us around and gave me a chance to relive the memory of being at the station and to extend my association even further. It's great to see things still running strong with an enthusiastic and awesome bunch at the helm!
We also had a lot of fun playing the Binghamton Late Nite Undergrounds after the radio interview!