★
Garage-rock songs based on ads from the back of comic books of yore.

E-Mail: Sophia@DoNotForsake.com
brought to you by All Right Aphrodite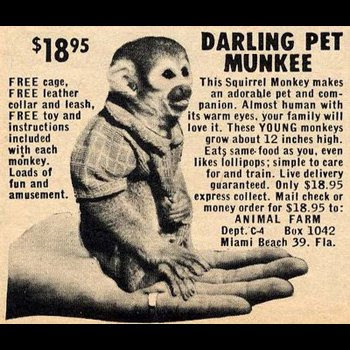 So what do you get when you cross Axemunkee with Do Not Forsake Me Oh My Darling? You get Darling Pet Munkee!
Brought together on a musical blind date by the beautiful & talented Kelly Davidson (of Etched on Film) on a chilly Friday night in March to write and record a song in an evening as a school project for Greg Morris.
After combining our band names, Michael remembered a vintage ad about a mail-order squirrel monkey. We quickly had a trashy garage rock song about ordering and loving this monkey.
The whole thing was written and recorded live and tracked directly to 2 tracks all between 7:30 and 9:30PM!!!
Bass/Vocals/Obsession with Monkeys: Michael J. Epstein
Ripping Guitar: Cathy Capozzi
Drums/Vocals/Monkey Noises: Sophia Cacciola
Facebook page, bandcamp