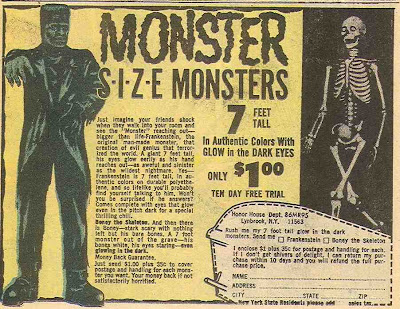 We've already tackled X-Ray Specs, Darling Pet Monkey, and Sea-Monkeys. A recurrent theme in the Darling Pet Munkee world is that most of the items sold in the back of comics were essentially giant rip-offs. The ads implied that these items were a heck of a lot more interesting than they actually were. As it turns out, this monster was essentially an image of Frankenstein's monster printed on a garbage bag. According to the stories, the "GLOW in the DARK EYES" were simply stickers that you placed over the eyes. We had better let you check out the song first!



Our music video:

Thanks to a sampler of things (and their Flickr page), we get to see the actual item itself!!!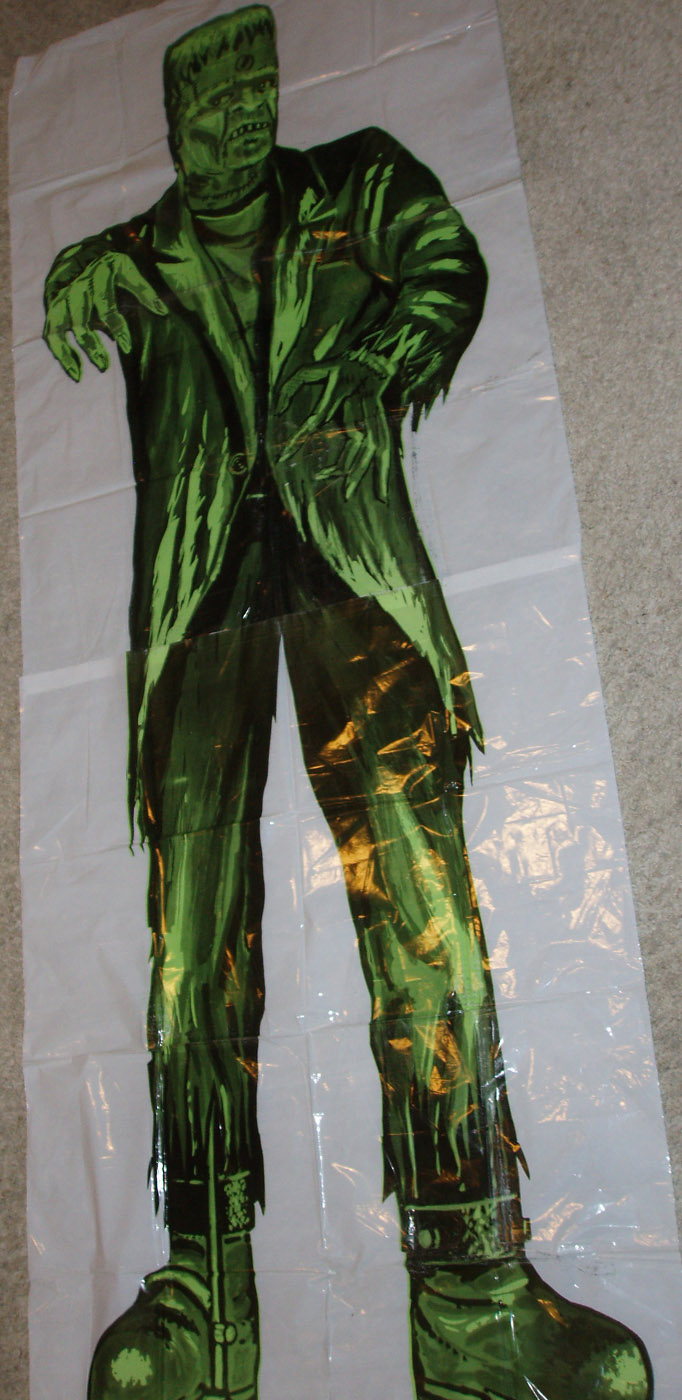 It's not exactly the most thrilling thing in the world, even if it is in "authentic color" according to some kind of unknown Frankenstein's monster standard.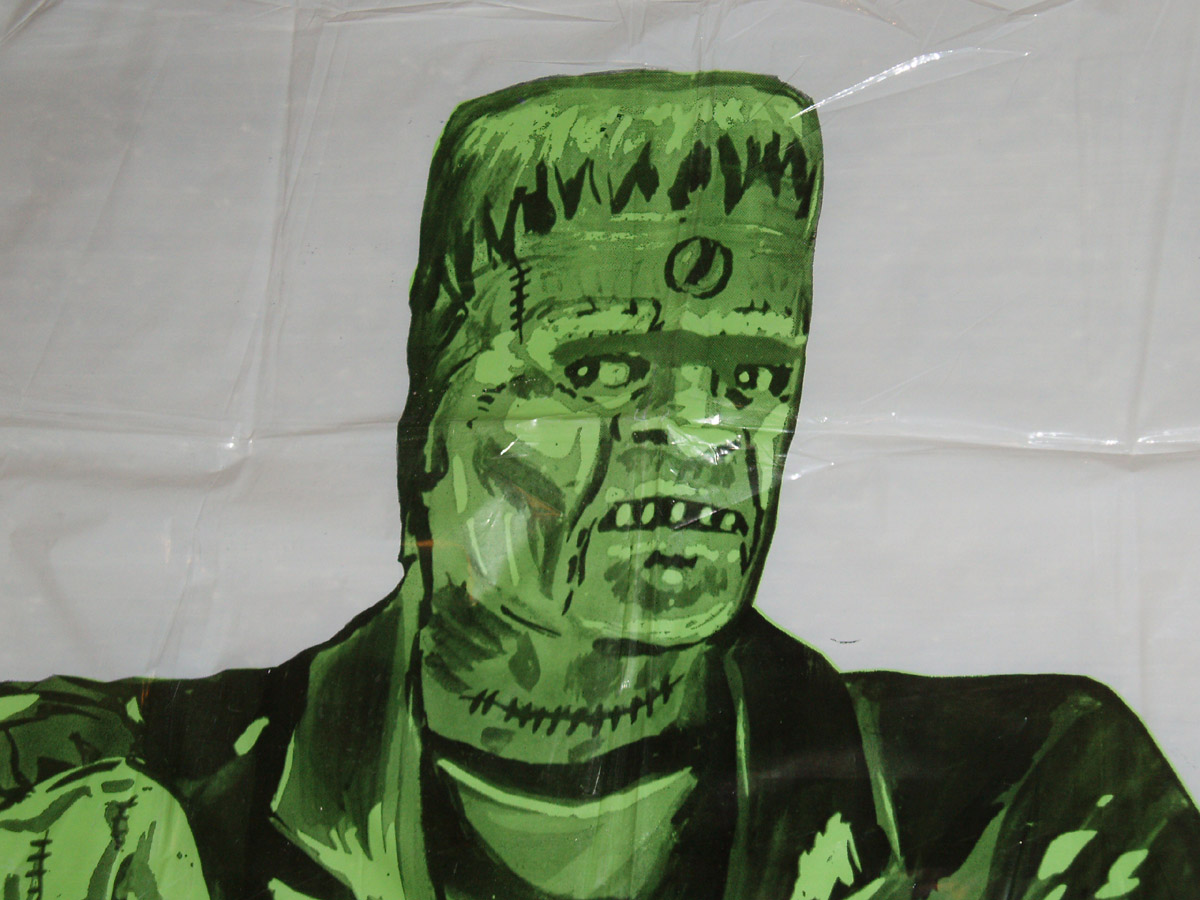 Ad text:
"Just imagine your friends shock when they walk into your room and see the "Monster" reaching out–bigger than life–Frankenstein, the original man-made monster, that creation of evil genius that terrorized the world. A giant 7 feet tall, his eyes glow eerily as his hand reaches out–as aweful and sinister as the wildest nightmare. Yes–Frankenstein is 7 feet tall, in authentic colors on durable polyethylene, and so lifelike you'll probably find yourself talking to him. Won't you be surprised if he answers? Comes complete with eyes that glow even in the pitch dark for a special chilling thrill."
They couldn't even be bothered to spell awful correctly. Hmm…
If the image of a garbage bag with the monster printed on it hasn't dissuaded you from wanting to be the proud owner of this guy, I've got some really good news for you! You can buy a modern version of this fellow over at: http://www.houseoftheunusual.com/stock/bestsellers/index.html
Some anecdotes of the disappoint of buying this fellow are littered about the web:
From ;I wondered if the monster–who was seven feet tall according to the ad–would come in an unimaginably huge box. Or would a special armored truck arrive with armed guards who would unload a large cage draped in black cloth concealing my own pet monster?…I raced to the kitchen …looking for a large box or a cage draped in black. Instead, I saw a rather ordinary looking 8 1/2 x 11 envelope. I opened it to reveal a folded plastic–plastic as in something almost like plastic wrap–POSTER. A poster? The ad said he was "reaching out." Well, he was…but in a two-dimensional sense. The glowing eyes? Glow-in-the-dark dot-like stickers that I had to stick on the monster myself. Authentic colors? Well, the ad in the comic book had better colors. Mine was a green tinted, black and white, Lon Cheney-ish Frankenstein monster on plastic. And as long as it hung on the back of my bedroom door (the only place my mother would let me hang it) it never lost the wrinkles from being shipped in the envelope. This monster would not terrorize the world. And he certainly wouldn't talk back to me….The monster hung on my door for a few months. I don't really remembered what happened to it in the end. I don't remember getting rid of it. But I do remember looking upon it with scorn, knowing I'd been suckered. I'd lay awake at night in the dark, seeing only those two stupid glow-in-the-dark eyes looking at me. Laughing at me. Did he speak? Well, maybe only to say, "Hey? What'd you expect for a buck, kid?"
Some comments from discussion at: http://comiccoverage.typepad.com/comic_coverage/2007/10/classic-ads-mon.html
"Sadly, I *was* allowed to order giant Frankenstein. The scariest part as I recall was the possibility of being smothered by fourteen square feet of polyethylene sheeting."
"I had the Frankenstein. It was printed on what appeared to be rejected material from the Hefty trash bag factory."
(…and not everyone was so badly disappointed…) "I was a little disappointed that it wasn't some kind of huge statue… but for a buck I was pretty satisfied! The colors were a sick, vibrant green, and frankenstein looked scarier than hell! They included some glow in the dark stickers to put in his eyes. I took the rest of the glow in the dark sheet to give him teeth that glowed! I cut out the background of both to make them appear to be less like a poster. 7 foot tall Images of Frankenstein and a skeleton in my bedroom? You Bet! I would pay big bucks to have them again!"


Even if the monster was generally a disappointment, it didn't stop a wide array of similar products from being unleashed, including:
| | | | |
| --- | --- | --- | --- |
| Boney (sold in same ad as above) | | | |
Lyrics:
Monster size, monster size, seven foot tall, he's monster size!
Monster size, monster size, glowin' in the dark, those monster eyes!

Bright green skin and a flat-top head. He's too big to fit under your bed.
Scarred up chin and a neck with pegs. If it weren't for the lightning, he'd be dead.


Monster size, monster size, seven foot tall, he's monster size!
Monster size, monster size, glowin' in the dark, those monster eyes!


He may walk like he's in a trance, but he loves to surf and he loves to dance.
He's a gentleman, he's into romance. So if you're looking for love, give him a chance.


Monster size, monster size, seven foot tall, he's monster size!
Monster size, monster size, glowin' in the dark, those monster eyes!
Next month: Genuine Soil From Dracula's Castle