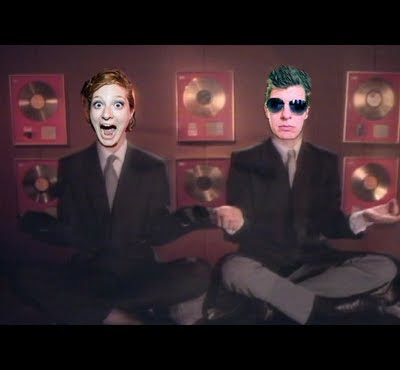 Do Not Forsake Me Oh My Darling and Parlour Bells are playing tomorrow at The Lizard Lounge, Cambridge MA and we decided to collaborate on a cover song – it was all supposed to be a delicious secret, but in the process we discovered we are bad at keeping secrets. So bad that we accidentally recorded the top secret duet we have planned for Friday night's Goddamn BDay Bash/DNFMOMD 2nd Video Premiere w Parlour Bells, Merrily James show and also accidentally made a video for it and mistakenly posted it to YouTube.
Hear our take on the Eurythmics' Sweet Dreams (are made of this) below!
The Boston Phoenix took notice and said: "More than a decade later, we finally have something to wipe that gross-ass Marilyn Manson taste out of our collective Eurythmics fan-mouths."
Here are the details for the show – it's also our video premiere for our cover of First We Take Manhattan!
FRIDAY, JULY 22 2011
DOORS AT 8:30PM
LIZARD LOUNGE
In addition to celebrating a certain someone's goddamn birthday (Glenn, producer of the First We Take Manhattan video and singer of Parlour Bells), Do Not Forsake Me Oh My Darling will be premiering their NEW video for "First We Take Manhattan," produced by Killer Suit. And that's just the icing on the goddamn cake, as there will be a heaping slice of the devil's food cake we call ROCK AND ROLL with performances from…
SET TIMES (APPROX)
DO NOT FORSAKE ME OH MY DARLING – 11:45
PARLOUR BELLS – 10:30
MERRILY JAMES – 9:15
To get a sneak peek at the "First We Take Manhattan" video check out the teaser: