It's Sophia's Birthday Show! August 19th at TT the Bears Place, Cambridge MA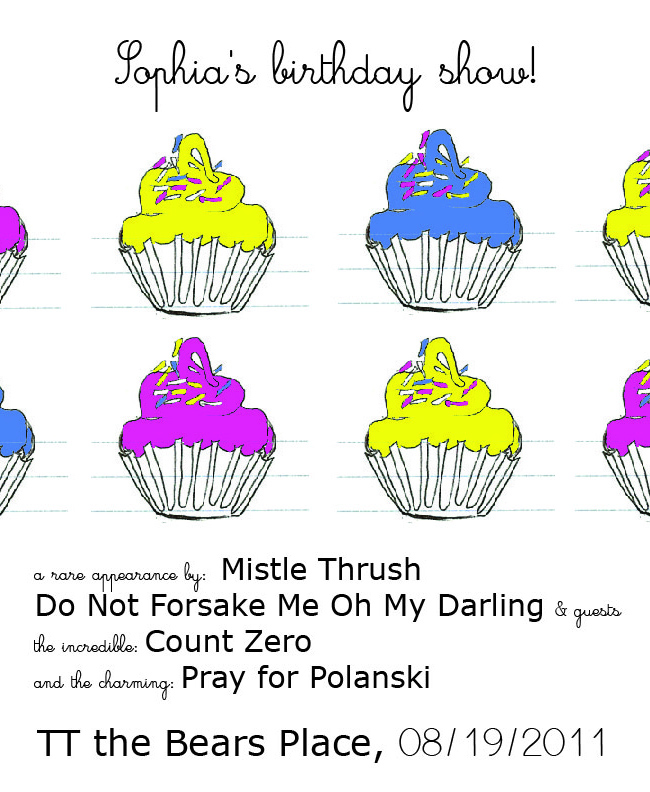 Do Not Forsake Me Oh My Darling are planning an extra special set – and an extra special set means extra special guests – we'll be joined by the "village band" – which will include saw & viola & other excitement. This is a not-to-be-missed one-time-only set! Also, it'll be one of the last opportunities to see DNFMOMD live for 2011 and early 2012 – we're slowing down the cycle of playing local shows to concentrate on our final EP in The Prisoner series and to do some more video work.
Most exciting of all is the bill that we've put together to help Sophia ring 27 in with style! Did we mention the cupcakes?! Oh yes, there will be cupcakes!
Mistle Thrush: Mistle Thrush released four albums and covered a lot of ground during the course of their 10-year history. With a myriad of descriptions ranging from indie rock to mood pop to shoegaze, the band's sound never stopped evolving. Credit to Mistle Thrush's inability to be pigeon holed and their constant touring, the band went on to share the stage with a wide array of artists that include Sonic Youth, The Strokes, BRMC, Garbage, Spiritualized, Love & Rockets, Brian Jonestown Massacre, Luscious Jackson and many others. There were tremendous highlights along the way – such as a deal with Warner Chappell, a major label/subsidiary release, national airplay, and a feature in Billboard Magazine – that were equally countered by the usual pitfalls that stall many a band; label quarrels, management problems, repeated personnel changes… it's certainly not an untold story.
Count Zero – Count Zero has been a staple of the Boston creative rock scene since 1996, formed by members of the cult electronic band Think Tree. The group is led by Peter Moore, who among other pursuits, is also known for his work touring the world as lead vocalist for the Blue Man Group's "How To Be A Megastar" tour. They recently released their fourth full-length CD, "Never Be Yourself," which contains songs made popular through their inclusion in the videogames "Guitar Hero" and "Rock Band." They're excited to share the stage for the first time with DNFMOMD, as well as MT, who they last played a show with a decade ago at the late great nightclub Lilli's in Somerville.
Pray for Polanski, 12 pounds of dance punk in a 10 pound bag, is about to celebrate their fifth anniversary of life. They just released their third album (self-titled) and they're supremely proud of it. you should listen to it, yes you. It has been on heavy rotation in the Cacciola/Epstein household – we're very psyched to have them open the night!
ALSO! Celeb bartender Anngelle Wood of Boston Emissions on WZLX will be mixin it up in the lounge bar!
We're so excited about this bill/night/experience! So much so that we want to get you excited about the music right now! From now until the show – we're offering a free sampler that includes music from of the bands: