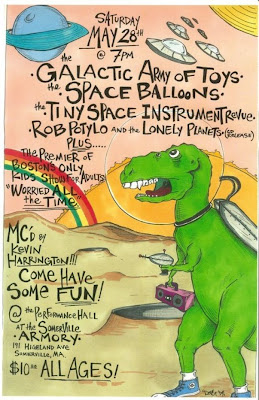 We explain a bit about the origin of Space Balloons here. The characters were created for Rob Potylo's children's show, Worried All the Time.
While napping after a particularly hearty meal of grapes, Balloononians Sophia (Sophia Cacciola) and Michael (Michael J. Epstein) drifted a bit too far off course in their balloon spaceship. Now they wander the galaxy in search of their home planet Balloononia while spreading the customs and culinary interests of their society in song.
Space Balloons' debut EP, _Welcome to Balloononia_ featuring 3 tales of Balloononian life, culture, and cuisine are available for free download for a limited time! Come celebrate its release with us at the
Worried All the Time premiere party
tonight (5/28)!!! This will be the first time that Space Balloons have touched down on this planet you call Earth. We will be joined by our trusty navigator
J-Krafty
, famous for his ode to crafting
"Crafty"
– he will share his observations on space travel and cryptozoology.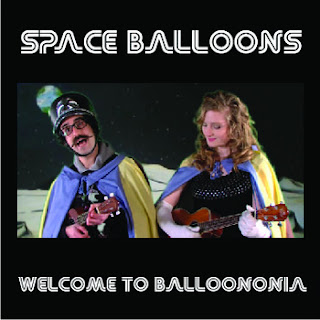 Some links about Space Balloons / Worried All the Time:
Weekly Dig
Jim Sullivan Ink
Stuff Boston
Boston Band Crush
Boston Metro
Space Balloons Publicity Materials