I'm pretty sure I didn't really cook all week. It was a combination of no groceries and no time. but, here's what I've got: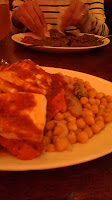 Mid East Dinner 12/5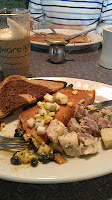 Veggie Galaxy Breakfast 12/5
Monday, 12/05/11: we had to drop the car off at the mechanic in the morning, which meant we were at Veggie Galaxy in time for breakfast! I had the Cambridge St. Tofu Omelet (red pepper spread, homemade vegan cheese sauce, black beans, apple salsa!) with rye toast and a side potato salad. MJE had the vegan pancakes. Dinner, we went to see a show at The Middle East Corner. I had the vegetable couscous with chickpeas and tofu, MJE had the mujadara (lentils)
---
12/6 pizza!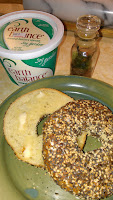 12/7 first dinner: bagel
Tuesday, 12/6/11 – I made a pizza using a whole foods crust (I get the one with the flax seeds) yves pepperoni (one of the only meat substitutes I buy regularly), chickpeas, and steamed kale. The cheese is daiya (which has quickly become the dominant vegan cheese.). I don't think chickpeas were meant to go on pizza, but it was tasty all the same.
Wednesday, 12/7/11 – dinner was super rushed before band practice -so dinner was an Iggy's bagel with Earth Balance. during band practice, Tanya ordered pizzas from Eat at Jumbos – so I did later have a more reasonable dinner.
12/8/11 We ordered indian food from India Palace. I always get the aloo gobhi (potatoes with cauliflower) and MJE always gets the Chana Masala.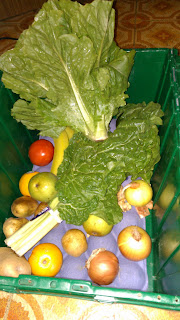 Boston Organics
Friday, I got my bi-weekly delivery of organic fruits and vegetables from Boston Organics. kale, greens, pears, potatoes, avacado, bananas, onions, ginger, pears, tomato.
---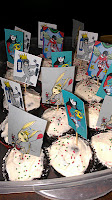 Edrie Cakes!
12/9/11 – I'm pretty sure I skipped dinner and went straight to the show (and picked up a soy latte at bloc 11 on a lovely walk with Meff from Walter Sickert & The ARmy of BRoken TOys. BUT, here's a photo of some cupcakes (with mint frosting, yum!) I made for birthday girl, Edrie.
12/10/11 – no photo but we went out to dinner at the Tibetan restaurant in Davis Sq, Martsa on Elm – their steamed spinach and potato momo's (dumplings) are to die for.
12/11/11 – Embarassingly, we went back to Veggie Galaxy for our main meal of the day and I think I had the exact same dish as above. MJE got the vegan egg & cheese sandwich. BONUS – is a photo of our midnight snack – grilled cheese: tomato, when pigs fly bread, and daiya mozzarella cooked up on my trusty cast iron pan.
here's the point of this blog, as outlined last week: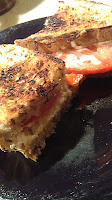 12/11 midnight snack –
vegan grilled cheese.
I'm tired of people asking me what Mike and I eat. Would an omnivore have an easy time answering this question? Mostly, we eat vegetables/grains/legumes/fruit. I cook everything I can in my trusty cast-iron pan. I tend to lean towards stick-to-your-ribs one pot meals that come together in about a half an hour. We're trying to be good and eat more salad. Once a week, I'm going to post about all of the dinners I made the week previous-hopefully it will clear up any lingering questions.