Monday, 12/12 I made a chana masala with brown rice. chick peas, potatoes, sauce: tomato juice (I use Pomi), yellow madras curry powder, sriracha, coconut milk, garlic, onions. simmered up. I usually boil the potatoes separately, otherwise it takes all year for them to cook with the sauce.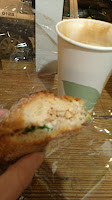 12/14 tofurkey sandwich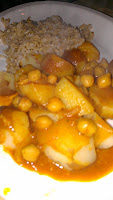 chana masala 12/12
Tuesday, 12/13 I have no photo and no memory of what I ate!
Wednesday 12/14 – we ended up in Jamaica Plain to pick up one last shot for our Darling Pet Munkee video,
X-Ray Specs
. We tried to go to the Milky Way for vegan pizza but they were closed for a private function – so we instead went to City Feed (independent grocer/sandwich/coffee shop) for Tofurky sandwiches and soy lattes! ingredients: Veggie nayo, grain mustard, marinated onion, avocado, locally made red pepper relish, red leaf lettuce on an Iggy's baguette.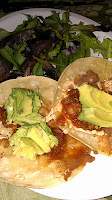 12/16 tacos!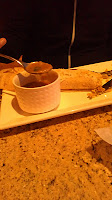 12/17 Masala Dosa
12/15/11 was our 5th wedding anniversary and we went to
True Bistro
to celebrate. We shared the Grilled romaine heart salad with: French lentils, roasted tomatoes, mustard, croutons. I had the House made tagliatelle (read: noodles in cashew sauce) with smoked tofu. Mike had the crusted tempeh with lentils & tomatoes braised in red wine, shaved leeks, heirloom carrots. For dessert we shared the brownie with rasberry champagne sorbet and the death by chocolate cake.
12/16/11 someone said something about tacos on facebook and I was all over that when I got home. Corn tortillas with pepperjack daiya cheese (which, now that I've had this a second time, I've decided is really gross – it's slimier than the othe daiya flavors), whole foods brand salsa (chipotle, I think, – was delicious), refried beans from a can, and fresh avocado slices and salad – super quick, easy, and yummy.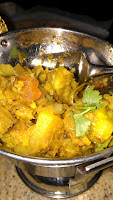 12/17 Aloo Gobhi
12/17/11 we played the Regent in Arlington and we had a lot of time to kill between soundcheck and doors so we went to
Punjab
for dinner. I have a problem in that I can never resist ordering Aloo Gobhi (potatoes and cauliflower.) Michael had the Masala Dosa (a chickpea crepe filled with mashed potatoes).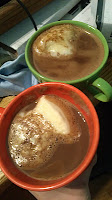 12/17 bonus! hot cocoa
Bonus! later that night after the show, I made us hot chocolates with Ricemellow fluff (a fluff alternative made out of brown rice syrup).
Sunday 12/18 we spent the day eating with vegan friends – we went back to True Bistro for brunch (I had the seitan burger and Mike had the waffles.) and for dinner we had take-out from
House of Tibet
in Teele Square. Sorry no photos but we shared momos (dumplings) and stir-fried noodles, and curried potatoes, and tsel baklab (vegetarian patties).