The Kickstarter page: http://www.kickstarter.com/projects/michaeljepstein/ten-b-movie-psychological-thriller-full-of-twists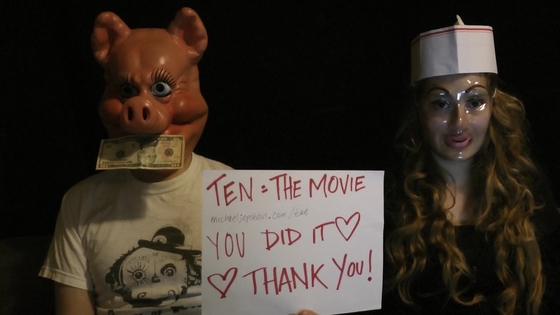 THE HOME STRETCH
We're down to the last 24 hours, but the really good news is we've reached the goal!!! Anything can still happen (pledges can be changed, etc. – I will say, please do warn us if you need to drop your pledge), but things are looking really grand and we are so grateful that you all decided to believe in this project and help make it happen. We've moved full speed ahead on casting and finishing the writing and we'll be posting regular updates from the film production on our blog at: michaeljepstein.com/ten
250
If we reach 250 backers by the end of this campaign, we will post a pig-masked celebratory dance video. We have extremely bad and embarrassing dance moves, so this will be something you can laugh at forever. So close to humiliation! Help us make that happen!
FUNTIME BONUS UPGRADES! (email us mje@michaeljepstein.com and sophia@donotforsake.com to claim these please)
If you upgrade your pledge by $10 in the next 24 hours (without raising your reward level), you can choose one of the following bonuses (or claim multiple bonuses in increments of $10):
1. Based on a paragraph you write, we will sing a short "theme" tribute to you (or anything you'd like) – approximately 20-30 seconds long, and post a video of us performing it for you on Youtube.
2. Be in a Facebook relationship with Michael or Sophia. You choose the type (in a relationship, engaged, married, complicated, in an open relationship, in a civil union, or a domestic partnership.) We will leave the relationship status up for 1 week. For maximum impact in your life, you can choose the week this happens (first come first serve) or we will choose a week as soon as possible after the kickstarter ends.
3. Sophia or Michael (your choice) will record a video of us reciting a short poem or tribute (~30 seconds) either written by you or by us, while wearing a pig mask.
If you're already pledging $10 or more above any level, you can also just let us know and claim these bonuses as well! We don't want to leave out you kind folks who already went above and beyond…
CASTING
We're full force on casting and will be closing consideration for the final roles in the next few days. We're currently looking at about 30 strong candidates for the 5 remaining roles. If you're interested in auditioning or being considered for the film, please see our casting call at: http://blog.michaeljepstein.com/2012/08/how-can-i-be-in-your-movie-ten-pre.html
On the casting front, we're also extremely excited to announce the addition of Porcelain Dalya to the cast just this very minute! More info on this breaking story: http://blog.michaeljepstein.com/2012/09/ten-movie-cast-announcement-porcelain.html