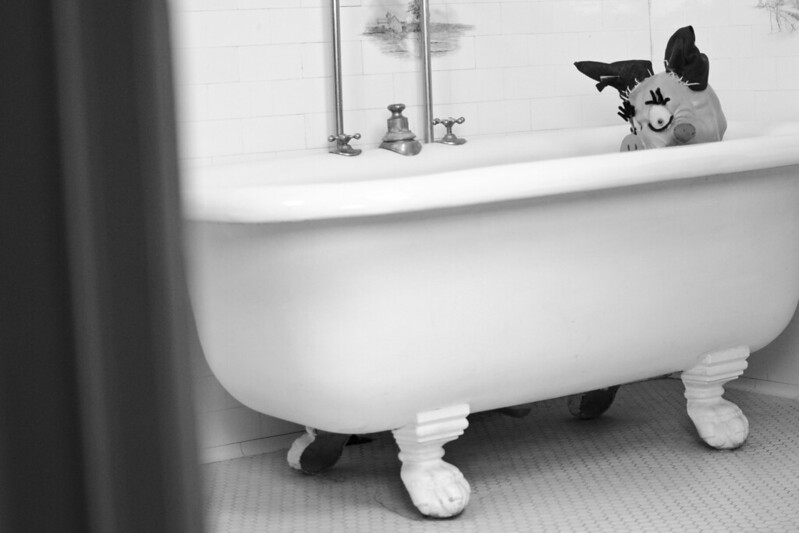 We wrapped the first day of shooting TEN just past 4 AM this morning, and we begin again at 4 PM today. So far, we've completed two scenes, each quite difficult in their own way. While the bathtub scene required few characters, it had a variety of physical challenges, most notably Leah spending the duration (several hours) nude and on the bathroom floor or in eventually cold and slimy tub water. If you missed it, be sure to check out her video interview from just after the scene was wrapped. She's a trouper. Fake blood destroyed one of her contact lenses somewhere along the way, but fortunately she'll be able to grab a replacement when she sneaks out of the mansion to perform in The Slutcracker.
The next scene was challenging to set up the light and sound properly; six of the ten characters were all in the room, sitting around (and on) a long table. The room has a lot of gorgeous features, from a chandelier to intricate floral wallpaper and dark wood paneling, but the shot needed to be narrow enough to block out the lights along the periphery of the room, and Joel likely has very sore arms today from holding the boom way up by the ceiling for hours. Adding to the challenge was that it was one long, continuous scene with a lot of dialogue, including a lengthy monologue from Karin, who delivered it beautifully – complete with a terrifying monster voice and sound effects.
As we neared the end of the day (night), things got a little gigglier, and there was much tea drinking. A few people tried to turn in early or read upstairs, but it ends up being quite creepy staying alone on the upper floors of the mansion while everyone else is downstairs.
Dispatches today will be fewer as I'm involved with all of the scenes being shot. After watching all of the excitement and hard work yesterday and early this morning, I'm excited to get my chance on camera today, although (spoiler alert) I'll mostly be dead. (As I mentioned in my cast interview, Mike and Sophia never let me survive their projects. In fact, I die twice in TEN, and both deaths will be shot today.) When I'm not on a cold cellar floor, I'll continue to post updates and photos, so keep an eye on the web, Facebook, and Twitter for more.