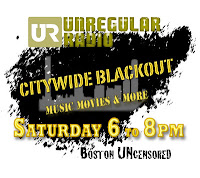 Listen to the very first interview we do, breaking the silence on TEN – on Citywide Blackout! We're on right at the beginning. Well, after Jade and Sophia talk about Diva Cups. At about 6:30, we actually stop the Diva Cups talk and start movie talk for real!
Original post:
We are now breaking our interview silence about TEN and we are open to interview opportunities for crew and cast. E-mail us at contact@launchover.com and we would be glad to set something up!
This Saturday, 2/2/13 at 6 PM, Jade Sylvan (TEN co-writer, actor, novel writer), Sophia Cacciola (TEN co-writer, producer, actor), and Michael J. Epstein (TEN co-writer, director) will be appearing on Citywide Blackout on UNregular Radio to talk TEN!