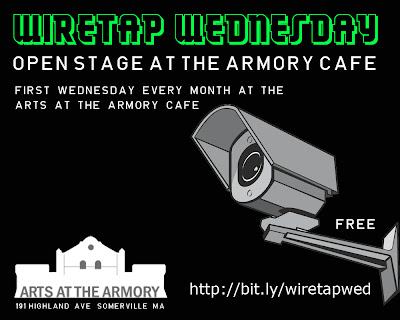 t
March Wiretap Wednesday is here!! This page ( http://bit.ly/wiretapwed ) will be the location of the livestream and time listings for performing acts.
Our feaure is Justin P. Drew, our first comedy feature!
Arts at the Armory
191 Highland Ave.
Somerville, MA
All Ages! Free! (Logistical Details) Free Parking in the back, wine and beer and coffee at the Cafe!
7:00 PM – Sign up (in person only) / social time.
7:30 PM – Open stage begins
8:00 PM – Feature performer
8:30 PM – Open Stage resumes
9:30 PM – End of Open Stage
10:00 PM – Building Curfew
Also, connect with us on Facebook.
Tonight's Performers (ALL LINKS GO TO TONIGHT'S PERFORMANCE):
John Innes
Leon Rich
Evan Ochs
Nikki Frankel
Matthew Otto
Adam Langlois
Ben Quick
Colin Garrity
PA Trick
Jonathan Michael
Faulke Yue
Something Civil
and our HILARIOUS comedy feature, Justin P. Drew!