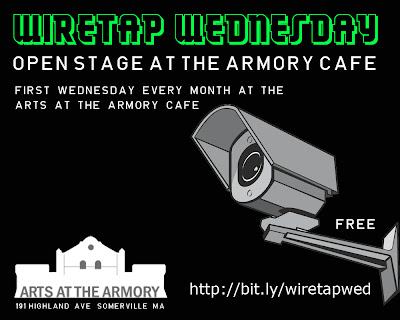 The first Wednesday of every month at 7 PM, Sophia Cacciola and Michael J. Epstein host The Arts at the Armory Café Wiretap Wednesday Open Stage. Performers (up to 20 per night) are invited to sign up and share their best short work (5 minutes or shorter including setup) and have video live-streamed and archived on the Internet. Each month will also include a featured artist playing a 25-minute set.
7:00 PM – Sign up (in person only) / social time.
7:30 PM – Open stage begins
8:30 PM – Feature performer
9:00 PM – Open stage resumes
10:00 PM – End of open stage / Curfew
Logistical Details:
Performers will sign up from 7:00 – 7:30 PM. The list order will be randomized and posted at 7:30 PM. Each performer will take the stage and a 5-minute timer will be set. Performers will be cut off if they exceed the 5-minute time limit (including setup) to ensure that at least 20 performers (maximum allowed to sign up) will fit prior to curfew. At 8:30 PM, a pre-booked feature performer will play a 25-minute set. Video of each performer will be posted and will remain available for at least 7 days. After 7 days, performers may request removal of their performance from the public archive. Visit http://bit.ly/wiretapwed or Contact Sophia Cacciola at Sophia@donotforsake.com for more information.
Upcoming Dates / Features:
2/1 – TBA
3/7 – TBA
4/4 – TBA