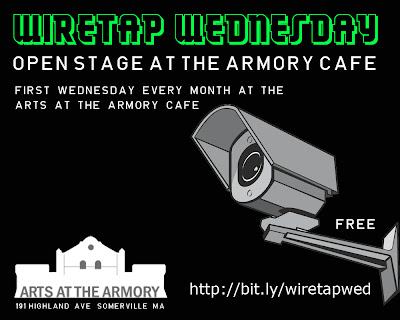 t
October Wiretap Wednesday is here!! ( http://bit.ly/wiretapwed )
Captain Easychord was our feature performer tonight, October 3rd!
Arts at the Armory
191 Highland Ave.
Somerville, MA
All Ages! Free! (Logistical Details) Free Parking in the back, wine & beer & coffee at the Cafe!
7:00 PM – Sign up (in person only) / social time.
7:30 PM – Open stage begins
8:30 PM – Feature performer
9:00 PM – Open Stage resumes
9:30 PM – End of Open Stage
10:00 PM – Building Curfew
Also, connect with us on Facebook.
list of performers (links go to the videos of their performances!):
Noonan
Jen Bliss (space pirate)
Will Davies
Bob
Paul Watts
Linnea Herzog
Justin P. Drew
Awkward Hug
Leon Rich
Our Feature Performer, Captain Easychord: