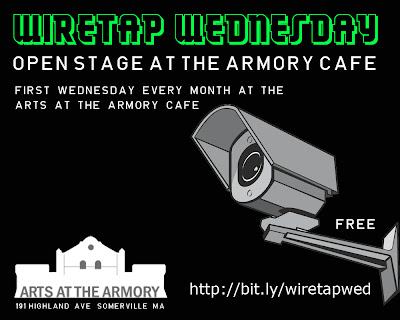 t
May Wiretap Wednesday is here!! This page ( http://bit.ly/wiretapwed ) will be the location of the livestream and time listings for performing acts.
Our feature is Colin Garrity of OTP!
Arts at the Armory
191 Highland Ave.
Somerville, MA
All Ages! Free! (Logistical Details) Free Parking in the back, wine and beer and coffee at the Cafe!
Feature performance with Colin Garrity with special guest Bryan Murphy (on trumpet and backing vocals):
Other performers (ALL LINKS GO TO VIDEO OF THEIR PERFORMANCE!):
Evan Ochs
Justin P. Drew
Bryan Murphy
Samantha Milowsky
Leon Rich
Jeff
Stephen LoVerme
Jared Daley
Faulke Yue