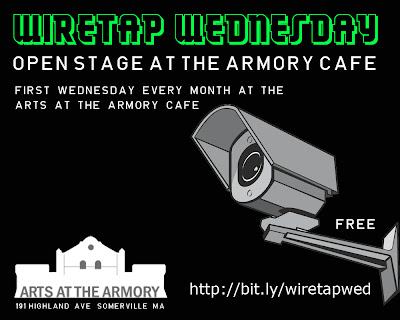 t
June Wiretap Wednesday!This page ( http://bit.ly/wiretapwed ).
Our feature was Ginger Ibex (piano/viola duo!)
and so many thanks to Leon Rich for hosting in our absence!
Arts at the Armory
191 Highland Ave.
Somerville, MA
All Ages! Free! (Logistical Details) Free Parking in the back, wine and beer and coffee at the Cafe!
Also, connect with us on Facebook.
(links go to their performances)
Faulke Yue
Jim Waugh 1
Jim Waugh 2
Matthew Otto 1
Matthew Otto 2
Michael McAffee 1
Michael McAffee 2
Shawn Dierdre
and our incredible feature, Ginger Ibex!