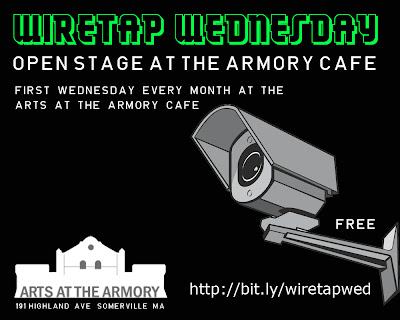 June's Wiretap Wednesday is here!! This page ( http://bit.ly/wiretapwed ) will be the location of the livestream and time listings for performing acts.
Kevin ONeil (Faulke Yue) is our feature performer this month!
Arts at the Armory
191 Highland Ave.
Somerville, MA
All Ages! Free! (Logistical Details)
7:00 PM – Sign up (in person only) / social time.
7:30 PM – Open stage begins
8:30 PM – Feature performer
9:00 PM – Open Stage resumes
9:30 PM – End of Open Stage10:00 PM – Building Curfew
Also, connect with us on Facebook.
Feature Performer, Faulke Yue (Kevin ONeil)
Our Performers from June 6th! (ALL LINKS go to the video we took):
Beady Sea
Laugh Foundation
Garrity Collins
Linnea Herzog
Leon Rich
Da Butcha Shoppe (video redacted)
Heather Roe
Bill Hamill
Captain Easychord
Jared Daly
Valentin Prince
Paul Watts
Sean Nolan
Jade Sylvan
Scott Miles
Blue Moon Harem