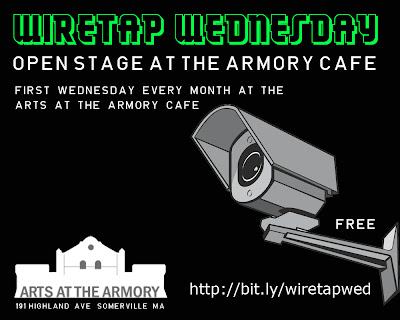 April's Wiretap Wednesday is here!! This page ( http://bit.ly/wiretapwed ) will be the location of the livestream and time listings for performing acts.
Lainey SchoolTree is our feature performer this month!
Arts at the Armory
191 Highland Ave.
Somerville, MA
All Ages! Free! (Logistical Details)
Also, connect with us on Facebook.
Lainey SchoolTree (our feature):

Video from May 2nd's performers!
Lou Susi
P.A. Trick (PAT VIDEO 2)
Betty Widerski (BW VIDEO 2)
Valentin Prince (VP VIDEO 2)
Paul Watts
Justin Drew
JR Huffman
Gideon Bautista
Zack