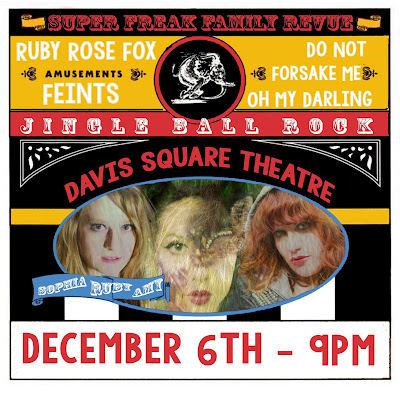 This will be the last live performance of Do Not Forsake Me Oh My Darling for ~9 months or so while we finish up the last four songs in our Prisoner epic, make as many more music videos as we can stand, and plan a multi-media extravaganza for the end of 2014! So, what we're saying is, unless Nick Cave comes knocking (or some other giant opportunity) we're taking a little live break. We're very happy to be joined at this show by Rachel Leah Blumenthal on oboe and flute, and Matthew Graber on trombone, percussion, and drums.
very excited to share the night with:
and Feints!
release:
RUBY ROSE FOX, DO NOT FORSAKE ME OH MY DARLING, AND FEINTS- DAVIS SQUARE THEATER! December 6, 2013 at the
Davis Square Theater
– 255 Elm Street, Davis Square Somerville MA Showtime-9PM
Price of Admission- 8 Dollars
What happens when three rockin'-est chicks in Boston get together in a Theater environment to celebrate the spirit of all things Jingle Bell Rock? Why, you get yourself a good ole fashioned HAPPENING, a Glamtastic Fiesta! A Super Freak Family Revue with pure theater rock spirit and the femme-ergy of Sophia Cacciola, Ruby Rose Fox, and Amy Douglas.
As this shall be no ordinary concert, in the spirit of ROCK THEATER, the three dynamos, one blonde, one brunette and one redhead shall join forces and in addition to the performances from their respective outfits, namely, the sultry retro flourishes of Ruby Rose Fox, the dramatic punk of Do Not Forsake Me Oh My Darling, and the pure rock bombast of FEINTS, the three ladies are joining forces that evening for special group numbers bound to make your eyes pop and your jaws drop!
Oh and there will be libations. SPECIAL libations.
So bust out your tongue-tinglers, wrap yourself in as much tinsel as you can stand. Don your gay apparel! Get ready for all the noise noise noise NOISE!