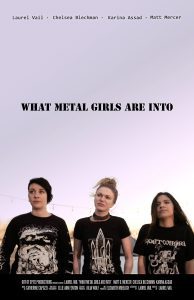 We had the great honor of having a small part in helping with Laurel Vail's excellent film, What Metal Girls are Into! We got to appear as extras in the metal concert scenes, but perhaps more importantly, we helped coordinate Laurel's collaboration with Catherine Capozzi (our frequent collaborator) on the score, which has won score awards at Women in Horror and was nominated at the Portland Comedy Film Festival.
Sophia even wrote the lyrics for and sings on the closing credits eponymous track!

http://www.cinepunx.com/women-in-horror-month-discovering-what-metal-girls-are-into-with-laurel-vail/
Women in Horror Month is undeniably one of my favorite times of the year, an opportunity to celebrate the women and films that have left an indelible impression upon us. It seemed the perfect time to conduct my first ever PopHorror interview.
As previously stated in my review for Echoes of Fear (read my review here), my favorite feature of The Women in Horror Film Festival in Peachtree, GA., this fest has shown an indisputable knack for selecting the very finest in female-centric horror films. The short films were no exception, as it was a nearly flawless lineup, making choosing a favorite beyond difficult.
A trio of women wearing At the Gates, Goatwhore, and Woods of Ypres shirts are headed toward a metal festival seemingly in the middle of nowhere. They're staying at a house not unlike something you would find on AirBnb. This is pretty standard stuff, except the dude renting out the place is kinda creepy.