10 Hours of Chaos
(Facebook Page)
I'm stealing Mike's (
read his account of his band/experience here
) description of One Night Band: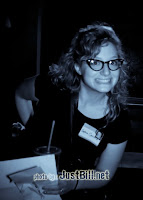 me on the morning of ONB
Photo by Just Bill

Last Saturday, I had the pleasure of participating this year in Boston Band Crush's One Night Band, and event that Mike and I helped organize last year. The premise: 10 AM, 40 musicians arrive at a meeting point. They are randomly assigned into 8 different bands of 5 people – all people they've never been in a band with before. Then, at 7 PM, they reconvene at The Middle East Downstairs and each band performs 3 original songs and 1 cover, all written/learned between 10 AM and 7 PM. There was great anticipation for the day. I did a little interview for BBC and my thoughts were heavily featured in the Boston Globe article previewing the event.

Waking up early is hardly ever a good thing. In the case of last Saturday, it was actually an awesome thing as we all filed into The Middle East Downstairs to be assigned to our new bands. We were handed our name tags that were color-coded with tiny monster stickers. It was very difficult for me, being so early and not much coffee yet in my system, to "find" my new bandmates – my tactic was muttering "do you have a blue blob" at people – finally, I was grabbed by Lauren Flaherty (website) and pulled into the group (who were obviously functioning better than I was as they had all already found each other). I was immediately delighted to have not only Lauren but also Edrie Edrie from Walter Sickert and the ARmy of BRoken TOys and Glenn Yoder from Cassavettes. I also quickly met John Maloney from The Rationales and Monophonic. Edrie, for reasons I still don't fully understand had two(!) full buckets of condoms and was prepared to fight for having a band with theme. Which was very good, since that was my one big demand as well. Ad Frank and Glenn diBenedetto were on us right away for a video interview and Ad inadvertently named us by telling us that we were in for "ten hours of chaos." We left the Middle East thinking we would do some sort of condom/sex themed band and headed to our practice space in beautiful Somerville.

At the practice space, we decided we would learn to play together by starting with our cover. We were thinking we would do our three originals thus: lust song, love song, love lost song, and Dancing with Myself (alone song). So we started in on Dancing with Myself and got it to a decent point though it never quite felt like it gelled. So we moved on to writing our originals. At this point, I thought our theme was still too vague, so I suggested that we narrow our love song field to being about "corpses or baboons" and Edrie, luckily, (I mean, we probably would have been arrested for either of my two suggestions!) suggested zombies and we were off and running. Still working within our original construct we started with our first song, a lust song. Through our collective brainstorm we decided it would be a country song about a zombie that was in love with a normal, non-zombie girl and had to decide if he should pursue his love or eat her brains. Glenn threw out the phrase "my hunger or my heart" and I was commandeering the marker writing lyrics with input from the group:
my hunger or my heart
gotta choose one for you
my belly is empty, but my love is true
my hunger or my heart
gotta choose one for you
either way baby, it's you

Lauren speaking: he's so handsome
but there's something I can't place
his arms are outstretched
but his skin is falling off his face

Glenn zombie: wanna give you kisses
wanna eat your flesh
you're so pretty baby
I don't know what I'll do next my hunger or my heart
gotta choose one for you
my belly is empty, but my love is true
my hunger or my heart
gotta choose one for you
either way baby, it's you

Lauren speaking: I don't know if I should run
it's getting pretty dark
but I hate ok cupid
and he's the cutest guy in the park! [final chorus with Lauren and Glenn]




Our next song came together quickly – it was a dirty garage rock song with the only lyrics being (me singing) "oh no! you're a zombie now," Edrie screaming, and Glenn saying "braaaiinns."

There being 3 girls in the band the next order of business was our outfits! We all decided to be coordinated in the colors of blood and gore – red and black! I believe (as far as I noticed) we were the only One Night Band that had coordinated outfits.

At this point we decided that since our theme had shifted some that the right thing to do would be to change our cover to Thriller. This came together really quickly and I felt a lot better about it than Dancing with Myself. We quickly whipped up our final original, a punk song with the refrain "we are walkin' down the street; we are lookin' for brains to eat."

It was about 2PM and we split for lunch at Bloc 11. At lunch we compared notes on being musicians in Boston and traded info about good places to play out of town. We got back to the practice space and ran through all of our material a few times and were out by 5 and back at The Middle East Downstairs at 7. During the band before us we reconvened backstage to apply white face make-up – looking a part is always as important to me as the music itself! Our set was probably about 11 minutes long but it was so much fun. Mike recorded our whole set:


We also got a shout-out from Michael Marotta at The Boston Phoenix (the article is mostly about Mike's band, The Positronic Rays), "make a note to listen to 10 Hours of Chaos' spin on Michael Jackson's "Thriller." And we ended up in the Weekly Dig's Exit Poll: (they picked Mike Bishop!): "DIG: What was the highlight of the night?
Mike: The zombie-themed band [10 Hours of Chaos] was phenomenal.
Nick: I'd say Thunderchunk was one of the best bands as well.
Mike: The themed bands were definitely the best bands. They had an idea and just flew with it. I mean, those bands wrote about zombies and Jaws, come on!"

It was so delightful working with Edrie, Lauren, Glenn, and John; and it was certainly a huge learning experience to have a high-pressure time restraint to write interesting music in. I think we succeeded in having a ball while working together and writing some cool songs. Part of me hopes for a reunion show to work with these awesome people again, while I'm also content to leave it as just one awesome day of being involved in the Boston music scene.