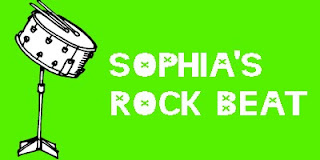 In case you missed it – this is the column (this is the third installment!) where I talk about all of the shows I saw the week before and post video. You can read the previous two by clicking right here!
Thursday, Feb. 10th we ventured out to TT's for a night of music curated by Rob Potylo of Quiet Desperation. Having played several of Rob's shows before, I know he always puts together an awesome bill of slightly off-center acts. We walked in right as Casey Desmond was starting up – somehow it's been a couple of years since I've seen Casey play – and she was really awesome. She has incredible stage presence (and an awesome '80s inspired wardrobe that I can only assume was homemade) -she danced around, played a little keyboard and sang through some effects while Taylor Barefoot played guitar and twisted phasers on his pedals – all to thumping electronic dance beats. It's so rare that I see anyone around Boston attempting (at all – and doing well!) dance music – so it was quite the burst of fresh air from what I've grown accustomed to seeing around Boston. Video 1, Video 2.
It's hard to ramble on about Walter Sickert and The Army of Broken Toys without saying anything I haven't said before – stupendous songwriting, vivacious live show – and their ever-evolving crew of merry pranksters. A top moment for me was catching two of their "bunnies" running around through the crowd – one wielding an ax (that video here) and another and another.
Rob Potylo played last and serenaded us with tearjerkers about some dude with creepy dick-head eyes and everything being okay once he sells his song to Batman 3. We taped 9 songs!

on 2/12/11 DNFMOMD opened the Naked on Roller Skates EP Release Party at Great Scott. We caught arena-rock of The Lights Out again for the second time this year – video 1, video 2 (which includes Jesse James -the drummer – singing!).
Leesa, Travis, Kelly, and Randy of Naked on Roller Skates – put on an awesome show (what EP release has balloons and a hot merch girl on roller skates, really?!) see the balloons floating:

and video of The Fighter and Symphony.
The hard-hitting R-O-C-K of Mellow Bravo – Keith dedicated their entire set to Michael J. Epstein's Mustache – we even got videographic evidence!

and second MB vid.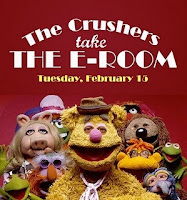 This week – I'm looking forward to :
Tuesday, Feb. 15th – The Crushers Take the E-Room – a celebration of One Night Band 2010 at the Enormous room – the ladies of my band, 10 Hours of Chaos have reunited to play two songs on acoustic guitar, ukulele, shaker, and thunder-maker.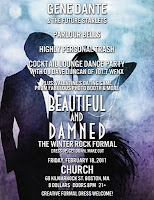 Wednesday, Feb. 16th – I'll be back at the Enormous Room for the first installment of the Rock and Roll Book Club. In January we read Steve Almond's Rock and Roll Will Save Your Life. It's not too late to join the club! Info here.
Friday, Feb. 18th is the Winter Rock Formal at Church. The idea is that we dress up, dance, enjoy some rock and drink fancy cocktails. Music provided by bands I see again and again because I can't stay away! Gene Dante & The Future Starlets, Parlour Bells, Highly Personal Trash, and Dance Party DJed by Dave Duncan of Boston Accents on WFNX. Plus rumors of a Dating Game AND some MJEML librarians will be manning a Prom-Fabulous Photo Booth. Wild!
Saturday, Feb. 19th the agenda is to hit The Middle East Upstairs for Muy Cansado, This Blue Heaven, St. Helena, and Leo Blais.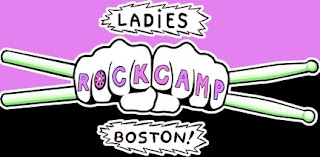 Sunday, Feb. 20th – we'll be at TT's for Ladies Rock Camp – which is a weekend day camp that provides an opportunity for ladies to learn a new instrument, practice and play their new songs/instruments at TT's. Tanya Palit and Rachel Leah Blumenthal of The Michael J. Epstein Memorial Library are participating! All proceeds from the event benefit Girls Rock Camp – which is much the same idea but for young girls – getting them rocking younger can only be good for rock 'n' roll!