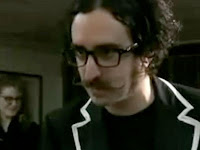 still of Mike in a Quiet D episode.
It's a fairy tale story of the local youtube reality-sitcom that makes it to TV! The brain-child of Rob Potylo, Quiet Desperation will debut on MyTV (Channel 18 in Boston) at 11PM on 12/24 and re-air at the same time on 12/25. There are write-ups in the Boston Herald and the Boston Globe about it today and there will be a piece about it on NPR's Morning Edition 12/24 at 6:50AM & 8:50AM. Quiet Desperation showcases and champions local comics and musicians. Rob's message is that (as a community) we lose too much talent to NYC and LA and there needs to be opportunity locally for creatives to stay here; and that we allow Hollywood to define Boston and one-dimensionalize our fine city (think of any of the crop of recent Boston-based movies).
Mike and I have appeared in Quiet D episodes as individuals and as Do Not Forsake Me Oh My Darling – we're really excited to see how the show shifts format from 7-10 minute youtube pieces to 25 minute TV. We wish Rob & Co. great success with this venture!
Hilarious Ad for the show: