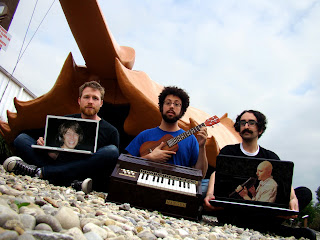 The MJEML is going on tour with our good pals Golden Bloom and Neutral Uke Hotel in April.
Tour Dates:
We've been thinking long and hard about ways to reduce our touring impact. We're driving quite a long distance and we're going to burn quite a bit of fuel in the process. So, we've explored the possibility of renting a veggie oil van instead of driving a standard vehicle. The cost for us, however, is a bit prohibitive. We thought about trying to get fans, friends, and family to help us group fund it, but that seems a bit overdone lately. Then, we found out about Reverb. They were looking for a band to help out with the cost of "greening" a tour for the organization's 100th tour. Golden Bloom has been nominated! As the MJEML and NUH will all be traveling in the same vehicle as GB, this would function as a solution for the entire tour party! Reverb is going to award the tour to one of their 5 finalists. I hate online voting a lot in a general sense, but this is for a good cause in all ways and to help promote a good organization. So, please head over and vote for Golden Bloom at: http://reverb.org/project/100tours/
The Reverb about blurb:
Deeply rooted within the music and environmental communities, Reverb educates and engages musicians and their fans to take action toward a more sustainable future.
Based in Portland, Maine, Reverb is a 501(c)(3) non-profit organization that was founded in 2004 by environmentalist Lauren Sullivan and her musician husband, Adam Gardner of Guster. Reverb provides comprehensive, custom greening programs for music tours while conducting grassroots outreach and education with fans around the globe.
In addition to our greening work with bands and artists, Reverb also works to move forward the sustainable practices of music industry leaders, including venues, record labels, and radio stations.
We take a positive "work-with" approach and believe that being green is not all or nothing; many people doing some things will have more impact than some people doing everything. All of us can be active participants in protecting the environment and creating real, large-scale, and measurable change.