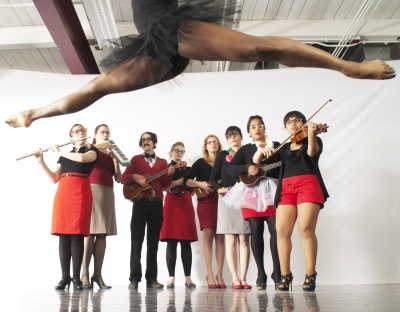 Indie baroque-pop octet The Michael J. Epstein Memorial Library will be joined by guest vocalist Sarah RabDAU (of Sarah RabDAU and Self-Employed Assassins) to present BalletRox Springs Out of the Box, a variety dance show including live music accompaniment, designed in conjunction with the Mayor's office to break down racial and cultural barriers and provide arts to an underserved community

Boston's Sarah RabDAU brings her voice like a raging fire (ACED magazine) into the mix to help The Michael J. Epstein Memorial Library present "Faith in Free," an original 3-song piece composed in conjunction with BalletRox choreographer Jane Allard. Sarah RabDAU and her band Self-Employed Assassins have been tearing up the Boston rock scene and earning critical acclaim since 2005.
Sarah RabDAU – Photo by Whitney Wotkyns
She has been described as a meticulous vocalist whose delivery seems controlled yet feels ecstatic (The Noise), having seething vocals presenting a cathartic, challenging song cycle (Performing Songwriter, TOP 12 DIY), occupying a space between haunted and heavenly (The Bostonist), and presenting an assortment of hazy textures and moody moods (The Boston Phoenix).
Thus, Sarah serves as the perfect addition to help The Michael J. Epstein Memorial Library present its song series examining the cycle of freedom from rebellion to hopelessness to ultimate triumph at the Strand Theater on June 18th. [for more information on Sarah RabDAU, see: http://www.sarahrabdau.com/]
6/18/11
BalletRox Springs Out of the Box
Strand Theater (543 Columbia Rd. Dorchester, MA 02125)
http://strandboston.com/
Tickets: $20 center / $10 side – http://bit.ly/balletrox2011
7 PM
Facebook Event: http://www.facebook.com/event.php?eid=183390775043171
Photo and Press Resources: http://michaeljepstein.com/balletrox2011/
Contact: Michael Epstein – MJE@MichaelJEpstein.com –



Description: A unique one-night blend of dance and music designed to empower and entice the audience to explore their own identities featuring brilliant dance creations from the BalletRox faculty and guest choreographers, including Tony Williams, Gianni Di Marco, Janelle Gilchrist, Rick Vigo, Lucy Warren-Whitman, Jane Allard, Lorraine Chapman. Featuring the BalletRox YouthRox Dance Company and live accompaniment and performance by indie baroque-pop octet The Michael J. Epstein Memorial Library.
On June 18th, BalletRox presents "BalletRox Springs Out of the Box" at the Strand Theater. The show is the result of an ongoing collaboration with the Mayor's office and the city of Boston to help bring affordable and accessible arts programming to the underserved communities of Dorchester, Roxbury, and Mattapan.
The show includes dances choreographed by both BalletRox faculty and guests. The dances each explore a facet of coming to terms with individuality and identity, sometimes within the context of maturation, other times exploring freedom within and outside of commitment, while focusing on the limitations of the scope and adaptability of societal norms and their imposed demands for conformity.
The evening concludes with an original piece with music and choreography created by members of indie baroque-pop octet The Michael J. Epstein Memorial Library. This unlikely collaboration is the result of BalletRox choreographer, teacher, and performer Jane Allard's involvement as the band's melodica and glockenspiel player. This final three-movement work, "Faith in Free," featuring original lyrical compositions by the Michael J. Epstein Memorial Library, ties together the thematic explorations of the pieces in the show and culminates in a final examination of the life cycle of freedom from rebellion to hopelessness to ultimate triumph.
The themes seek to empower the audience to accept and even embrace their diversity and to work to overcome hurdles to hone their individualities and recognize their personal worths and contexts within a world pushing for homogeneity and de-emphasizing individual value.
About The Michael J. Epstein Memorial LibraryThe Michael J. Epstein Memorial Library is the world's only librarian-attired indie folk act. The MJEML is a octet indie-acoustic baroque-pop ensemble featuring intricately constructed, tongue-in-cheek tortuous songs with an emphasis on narrative.
See for additional information.
About BalletRox
The mission of BalletRox is to use the power of dance to break down racial barriers and enrich the community's artistic experience through our diverse dance company and school. BalletRox offers scholarships for under served children, regardless of financial ability or career goals. All children at BalletRox receive a solid foundation in ballet, as well as an opportunity to explore other dance styles, such as modern, jazz, tap, and more. BalletRox students and professional dancers have the opportunity to perform in critically acclaimed productions, like Anthony Williams' Urban Nutcracker and other innovative dances. BalletRox continues to establish its unique position as a multi-racial dance company and school. Because BalletRox focuses on at-risk, urban children, it is able to teach much more. BalletRox is uniquely positioned to provide the proven psychological and developmental benefits of dance. Through dance classes and performance opportunities students learn discipline, teamwork, self-respect, and self-esteem. BalletRox provides critical tools for helping young people manage peer pressures, family crisis, and threats from the streets as well as for success in the adult world.
BalletRox Press Clips:
About the Strand Theater
The mission of the Strand Theatre is to serve as a cultural and educational resource to artists and audiences regardless of race or cultural background, age, ability, gender, economic level, or sexual orientation. Central to the Strand's mission is the development and implementation of youth arts educations programs. The Strand Theatre has a special commitment to the surrounding communities of Dorchester, Roxbury, and Mattapan.