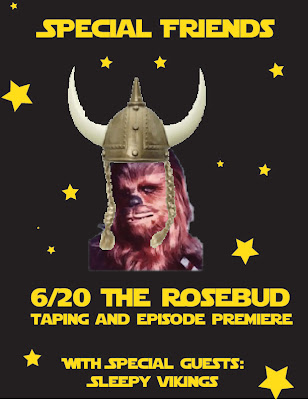 Special Friends Presents:
Stamp By Stamp West (our SXSW escapades)
Video Premiere and Episode Taping
6/20/11; $5; The Rosebud Bar, Somerville
w/guests Sleepy Vikings (fr. Florida)
check out their single, "Calm" at: http://sleepyvikings.bandcamp.com/track/calm-2
Special Friends is Somerville's newest sitcom about a time-traveling pets, zombie cab drivers, and five very misguided members of the Boston local music scene who hopelessly reference The Trilogy at every turn.
Most sitcoms wait a few seasons before taking their trip far, far away…
But these friends are…SPECIAL.
Special Friends invite you to be part of a future episode as we'll be filming an open-mic style concert where participants (that means you!) come and play a song or two inspired by Star Wars (from the perspective of Greedo perhaps, or your love of
scrolling letters on a screen, or Ewok dance party times!)
Best of all, we'll also be premiering "Stamp by Stamp West" very SPECIAL Special Friends episode which chronicles the gang's collective misadventures in Austin, Texas.
RSVP your stage slot by commenting on the event!
http://www.facebook.com/event.php?eid=207533162621316
and shoot an email to mje@michaeljepstein.com!
We'll be taping your reactions to both video and the concert – which will hopefully include vigorously booing Michael J. Epstein.
Special Appearance by the Florida band Sleepy Vikings (who you will vigorously cheer for)!
Special Friends is comprised of Glenn DiBenedetto of Killer Suit Media
and Parlour Bells; Sophia Cacciola & Michael J. Epstein from Do Not
Forsake Me Oh My Darling, Space Balloons, and The Michael J. Epstein
Memorial Library; Richard Bouchard of Boston Band Crush; and Agent
Bishop.
Special Friends Theme!

Special Friends teaser (Shot at The Rosebud!)