While it may be a while before we head off on a full-fledged tour, we do have this one travel show to reunite our Neutral Uke Hotel / Michael J. Epstein Memorial Library / Golden Bloom adventure. Before we head down to Philly, Tanya has some recollections of what she learned on the last tour!
The Philadelphia F/M Festival – Green Room Music Source Showcase
Neutral Uke Hotel, Michael J. Epstein Memorial Library, Rocki Rock, The Future Everybody, Savannah Smith
Facebook Event
North Star Bar Philadelphia, PA
Sat, September 24, 2011 9:00 PM
$10.00 / 21+
---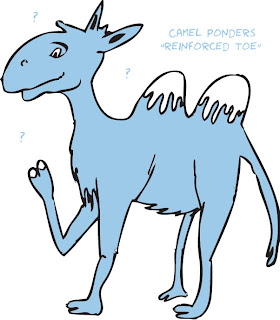 illustrated by Sophia Cacciola
Things I Learned on Tour
Lessons from a Novice Musician's First Taste of Life on the Road
The Michael J. Epstein Memorial Library
1) Learn your sound tech's name. Whether he's a jolly bald guy named Joe or a surly Frenchman named Maurice with an unlit cigarette dangling between his lips as he asks "are we done here?" halfway through your sound check, it makes him feel appreciated in a sometimes annoying and often thankless job. It also mitigates the risk of them "accidentally" turning your ukulele all the way down in the house mix.
2) One's bra is a handy though unwise storage place for the following: a) Drink tickets, as excessive stage sweat will render them soggy and useless by end of the night) b) Set lists, unless you want a temporary tattoo of your band's songs on your bosom until your next opportunity to shower arises c) Additional percussion, as my mother politely reminded me at our Chicago show after I produced an egg shaker from my blouse for a cover song. Apparently, it's tacky.
3) Touring during Passover is Matza-licous! When snacking on matza, be sure to hydrate constantly to offset all of that unleavened goodness, or else your mouth will be dryer than an Old Testament desert. Other than that, matza is a fun-to-eat, low fat, vegan toursnack! As Shawn Fogel of the band Goldenbloom reminds us, "it's the bread of affliction!"
4) Pantyhose apparently come in sizes specifically calibrated for your height, weight and approximate girth. This is what is meant by the quizzical As, Bs and Cs located on the back of the package. Also, "reinforced toe" has nothing to do with crotchfit (oops).
5) Try your best to ignore the couples who will inevitably dry hump in front of the stage. You've seen them before. They are the hormonally charged youth who seem to think the romance sparked during a shared (albeit PUBLIC) music experience lends them a Harry Potter-esque cloak of makeout invisibility.
6) Label your gear. Label it like you are flying through a busy international airport in a developing country. Assume things will get knocked around, mixed up, and schlepped by people other than you. Assume also that it will end up sitting on a grimy Brooklyn sidewalk at 2:30am while the van pulls up.
7) Stop at local places whenever possible. Despite your best efforts, you will probably end up eating more items purchased from truck stops than you ever imagined possible. So, when the opportunity comes your way, track down a cool local diner or coffee shop and mow your way across America! I had an excellent veggie dog in Cleveland at "The Doghouse." We all had a memorable gourmet breakfast at "Taste" Restaurant and Café in Indianapolis. And who could forget the fresh eatin' at the Rock Island, IL Subway sandwich shop? I hope we get one of those in Boston.
8) Tell your friends within 100 miles of a city that you're playing a show there. You'll be shocked how far people will drive to see you play in your super cool touring rock n' roll band! Your friends are proud of you, and just may surprise you by driving 3 hours to watch your 30 minute set. My family and friends did, and it was an overwhelmingly wonderful experience.
9) Whether you're playing a $4500 Les Paul guitar or a $2 egg shaker, ROCK IT like it's your J-O-B. Actually, since you are now a professional musician, it literally is your J-O-B. When the people pay to see a show, a show you must deliver!
10) The only thing more fun than listening to great music is making it. It helps when you're surrounded by incredibly fun, amazingly talented and delightfully off-kilter people.