WHY WHAT THESE VEGANS EAT? I'm tired of people asking me what Mike and I eat. Would an omnivore have an easy time answering this question? Mostly, we eat vegetables/grains/legumes/fruit. I cook everything I can in my trusty cast-iron pan. I tend to lean towards stick-to-your-ribs one pot meals that come together in about a half an hour. We're trying to be good and eat more salad. Once a week, I'm going to post about all of the dinners I made the week previous-hopefully it will clear up any lingering questions.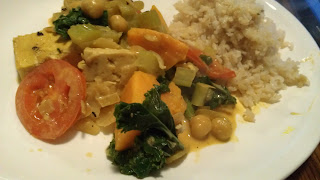 This I based on a dish I had at Yoma in Allston, the coconut tofu (incidentally, they make their "tofu" out of chickpea flour – which is extra silky and delicious compared to soy tofu). My dish: sweet potato, kale, chickpeas, tofu, tomato cooked with curry powder, onions, garlic, coconut milk.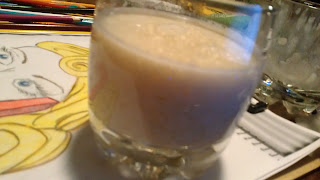 with the leftover coconut milk I made tapioca pudding – just followed the instructions on the tapioca box.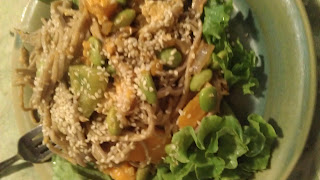 peanut noodles (curry powder, soy sauce, peanut butter, rice vinegar, srirchra) with green pepper, edamame beans, sweet potato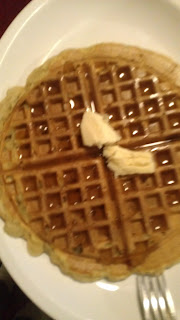 banana waffle! made from the recipe in Vegan With a Vengeance – I omitted the walnuts.
Swiss Chard with pinto beans and sweet potato (boiled up with Better than Bullion) and a side of quinoa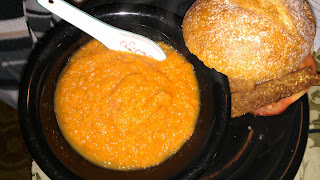 Carrot ginger soup! 5 carrots, one sweet potato, celery, garlic, onion, large chunk of fresh chopped ginger, pureed served with a sandwich of tempeh bacon, tomato, and avacado.