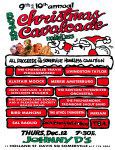 The 9th or 10th Annual Boston Christmas Cavalcade for the Homeless at Johnny D's on 12/12/13 at Johnny D's
https://www.facebook.com/events/1409026175999070/
UPDATE: What a blast! Here are some vids from the show!!!

The show features the Chandler Travis Philharmonic, Livingston Taylor, Merrie Amsterberg, Miriam, Boston Typewriter Orch., Ramona Silver, Jon Cohan and his Golden Rulers, Second Line Social Aid and Pleasure Society Brass Band, Sal Baglio, Bird Mancini, Betsy Dawn Williams and Jeff Potter, Jim's Big Ego w. Vance Gilbert, Alastair Moock, Jenny Dee, Michael Tarbox, George Hall & Santa's Minions, Sarah Borges, John Powhida, the Darlings, the Catbirds, Sophia Cacciola and Michael J. Epstein Celebrate the Holidays!, the Philharmonic Trombone Shout Band, the Athol Thingerth, and a heavenly host of others; Suggested donation of $25.
All proceeds go the the
Somerville Homeless Coalition
. (and get there early for dinner, because not only is that a good way to get good seats, but Johnny D's is donating 10% of all food charges and gift certificates purchased tonight to the cause -thanks, Carla!!) 7:30 pm.