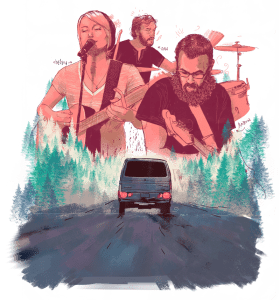 The Motion Sick's "30 Lives" is featured in the film,
The Anchorite
!
Stubborn guitarist Aaron Black finds himself unceremoniously ejected from his band and takes revenge by hijacking the tour. But when his manager insists he take on Chelsea as an opening act, Aaron's got to make nice. Eventually joined by Aaron's estranged high school best friend Dan the Drummer, the 3 musicians travel the country becoming not just a band, but a family.
Download the soundtrack for free in exchange for a tweet or share!

01 Pray for Polanski (as VC Orange) – Darling
02 The Anchorite – Clever Cleaver
03 Lady Lamb + Pearl and the Beard – Apple
04 Matt Francis – Super Sleuth Decoder Ring
05 Typefigher – Frank Sinatra
06 Plastic Operator – Singing All The Time
07 Barnstormers – The Gift
08 Music Band – Beneath A Tree
09 The Motion Sick – 30 Lives
10 Chelsea Mitchell – If I Got Mine
11 Rudy Valdez – My Morphine
12 TJ Kong and the Atomic Bomb – Sweet Lorraine
13 The Lousy Instruments – Janitoria
14 Mega Ran – Splash Woman
15 Warbles – Paul Revere
16 Bella's Bartok – Wandering
17 The Anchorite – If I Got Mine (Chelsea Mitchell Cover)