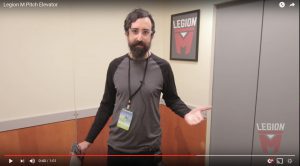 The latest news is that Michael has advanced to the semifinals along with 32 other pitches. His pitch will be featured on an episode of the Pitch Elevator show. Eight finalists will be chosen by judges and fans.
List of semifinalists:
In case you missed last night's Pitch Elevator. Here are the 33 pitches advancing to the next round. Congratulations! pic.twitter.com/G8KC1A5pzK

— LegionM (@LegionMOfficial) November 8, 2017
Sophia and I had a lot of fun at the Stan Lee comic-con paying a visit to Legion M's pitch elevator! Legion M is a microinvestment, fan-owned entertainment company, producing content with input from investors. It's a really interesting new model for entertainment production, and they held a pitch contest at the comic con. For the next couple of weeks, you can vote on your favorite pitches along with the staff, members and shareholders of Legion M.
10 finalists will receive a $250 cash prize and a chance to pitch their idea to a panel of Hollywood agents and executives. One grand prize winner will receive $1,500 in cash and a development deal with Legion M that guarantees $15,000 if their project gets made!
Sophia and I both pitched and it was kind of intimidating process, but we had a lot of fun doing it. In fact, I make a brief appearance in the teaser for the competition (probably the closest I'll ever get to being in a movie with Stan Lee)! See if you can spot me!
Vote here! (You can't just vote for us – it's a head-to-head competition, which is much better and more fair!)