The Michael J. Epstein Memorial Library Archives presents former band members…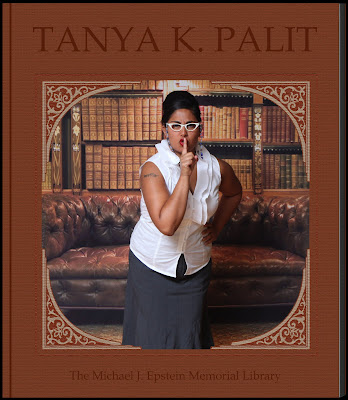 Tanya K. Palit
Executive Assistant to Mr. Bookman, Library Investigations Officer, guitar, vocals, and occasional violin
Tanya picked up the guitar for the same reason many people do: Bangladeshi political instability (assassinations, strikes) and natural disaster (mainly flooding). Let's just say she was afforded many idle days off from her job at an NGO, and is self-taught. She studied the violin from age 9 until the point in High School when association with the so-called "dorkestra" became a social liability. Tanya is also the self-anointed karaoke Queen of greater Grand Rapids, MI.
Favorite Author: Arundhati Roy is Tanya's favorite author. Her turn of phrase is masterful, her arsenal of knowledge astounding, and her incisive analysis utterly damning. Her celebrated fiction is worth a read, but her non-fiction essays cut to the pulsating heart of complex social and political issues with a rare clarity and grace.
Favorite Book: Salman Rushdie's triumphant Midnight's Children is near to Tanya's heart, and a true jewel in the crown of English literature. Rushdie's unwieldy, playful prose and wicked sense of humor about the patently un-funny are among his gifts as a story teller. Plus, any author whose writing makes the Ayatollah of Iran order a bounty on his head receives some serious bonus points.
Favorite Band Named after a Book: Belle & Sebastian, named after the French children's book of the same name. This band's mellow melodies and hushed vocals remind Tanya of rainy afternoons in college, spent listening to lyrics like "If I could have / a second skin / I'd probably dress up in you."
Favorite Song Based on a Book: "Ladies and Gentlemen, We Are Floating in Space," by Spiritualized, based on a story line in the philosophical adventure book Sophie's World. How can anyone not love that title?