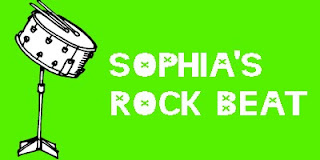 As always, you can find other weeks of The Beat here. This week started out with Boston Band Crush's One Night Band night at the Enormous Room. The ladies from my One Night Band from last Summer (10 Hours of Chaos) reformed as Ladies of Chaos for two acoustic songs. I took over singing duties on a duet about a zombie trying to decide if he should eat his love interest. We also played a romp called "oh no! you're a zombie now!" – check it out:


Kate Murdoch and Marc Pinansky also reunited to play their Voltron Forceflex hit, Hold Me. Kate also played a couple of songs with her Sidewalk Driver bandmate, Tad McKitterick (1, 2) and Brendan Boogie joined them for one. Jeffrey Vachon of the Big East played a few of Thunderchunk's Jaws-inspired hits including a full room sing-a-long. (1, 2)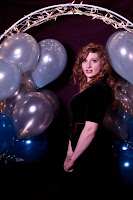 Friday 2/18 was the Winter Rock Formal at Church. Please, do yourself a favor and check out the amazing photobooth photos on Facebook!!! Highly Personal Trash opened the night – video 1 & 2. Followed by the swooning-velvety rock of Parlour Bells – playlist here. Gene Dante and The Future Starlets ended the night. Gene and co. allowed me to join them for their song "C Star" – if you've ever heard the song, it may come as some sort of gender-bending surprise to hear a woman sing it – it was an absolute thrill joining them, check it out:

we caught two other full songs (1, 2) and we partially caught their last song, "The Closing" – Gene had run out for a costume change – which ended up being a cross between Audrey Hepburn and Tarzan in the most satisfying way –video.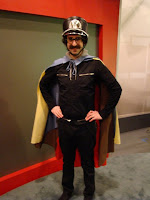 Saturday, 2/19 – we headed to the Middle East Up for This Blue Heaven (1, 2, 3, 4), Muy Cansado (1, 2, 3) and St. Helena (1, 2, 3).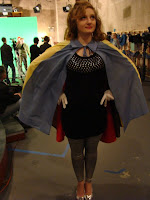 Sunday 2/10 – Rob Potylo invited us to participate in a taping of a pilot for a children's show for MyTV called Worried All the Time. We had a blast hanging out up in Derry, NH with the Quiet Desperation and Walter Sickert and The Army of Broken Toys crews. We took a lot of behind-the-scenes footage – including performances by Meff 'n' Jojo's Tiny Instrument Review and Walter Sickert (& tAoBT). We invented a children's band called Space Balloons for this show. We actually plan to do a full record of children's songs under that name. For now, check out our Bandcamp site with 3 streaming songs – my favorite of our new songs is, "If You Want A Mustache."

Sunday night, we went to TT's to check out Ladies Rock Camp, which Mike already blogged about here. Link to full playlist!
Coming up this week, I'm looking forward to: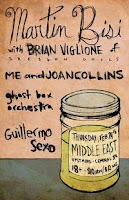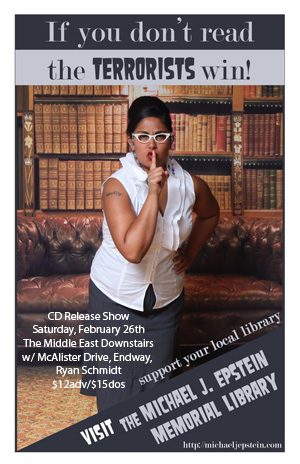 2/24 – The Middle East Up -Guillermo Sexo, Ghost Box Orchestra, MEandJOANCOLLINS, Martin Bisi
2/25 – Precinct – Someville Symphony Orkestar
2/26 – The Middle East Down – The Michael J. Epstein Memorial Library CD Release!!! with Ryan Schmidt, McAlister Drive, and Endway!