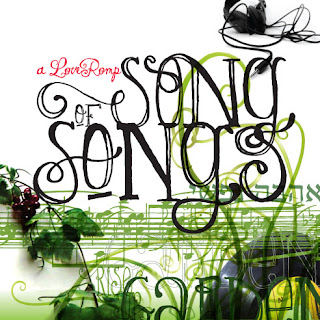 Liars & Believers (formerly The Performance LAB) presents a world premiere indie rock musical, Song of Songs – a LoveRomp, inspired by the Biblical text The Song of Songs.
The show runs June 2 –18 (The Michael J. Epstein Memorial Library opens on June 2nd at 7 PM and 3rd at 7:30 PM – i.e., the band begins about 20 minutes before listed showtime)
Boston Center for the Arts
539 Tremont St.
Boston, MA 02116
[Directions] [Tickets]
$35 / $20 for students/seniors


The show explores love in the modern world with songs, dance, puppet and clown, and features live Boston bands as opening acts. For ages, The Song of Songs has mesmerized readers and scholars with its rich imagery and candid language. "The Song of Songs is the greatest love poem ever written," says Director and LAB Artistic Director Jason Slavick. "Its complexity, sensuality – not to mention religious baggage – make it irresistible for theatrical interpretation."
Interweaving multiple stories, Song of Songs – a LoveRomp delves into different types of love, from the young and silly to the dangerous and codependent. It explores love as inspiration, loss, sexual and spiritual arousal, loyalty and compassion.
Boston
native Nathan Leigh has composed a hip indie rock score that is eclectic, exciting and heartfelt. With influences as varied as Leonard Cohen, Neutral Milk Hotel, The Talking Heads and The Decemberists, the show combines unusual percussion with indie folk guitars and expansive harmonies to create a world that evokes both the handmade and the majestic. "Nathan has married indie experimentation with the richness of the text," says Slavick. "The music goes from a simple pop gem to complex five-part harmonies."
The show was developed collaboratively with the ensemble of performers, designers and artists, led by Slavick, writer and director of last year's hit punk cabaret musical, Le Cabaret Grimm. The ensemble includes actors, Esme Allen, Austin Auh and Dylan McGill, dancer and choreographer Rachel Bertone and actor/musician Hayley Jane of Hayley Jane and The Primates.
According to Slavick, "It's a unique process that harnesses all the creativity of the artists who really bring themselves fully to the material they've created." As a result, the show includes clown scenes, elegant and comic puppets, rock ballads and a great deal of dance.
Continuing the spirit of collaboration,
Song of Songs – a LoveRomp
features an opening act titled "ForePlay." It rotates weekly, showcasing some of
Boston
's most exciting new music acts and creating a different experience each week.
The Michael J. Epstein Memorial Library will perform on June 2nd and 3rd.
To preview the music or for more information visit http://www.liarsandbelievers.com
Liars & Believers is a non-profit theatre company that creates original live performances which move the heart, challenge the mind and feast the senses. Liars & Believers is dedicated to expanding the audience for live performance in Boston, exploring great local talent of all kinds and enriching the Boston community.
Praise for last season's presentation, Le Cabaret Grimm
"…a visually rich, kinetically sophisticated, and musically rewarding evening…" ~ The Boston Globe
"Cassandra Marsh's music…genre hops between the conventions of modern Broadway and Disney on Ice, and smoothly skirts over to a few catchy "punk" gems." ~
Boston
Lowbrow
"If you like your fairy tales geared toward a late night, adults-only vibe, then this is the place to be." ~ EDGE
Boston