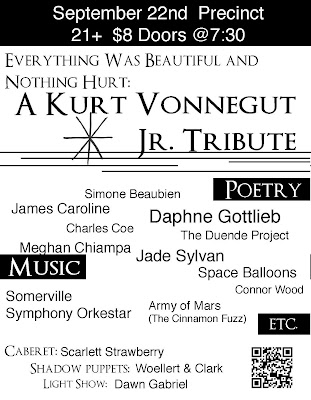 We are very excited to report some Space Balloons news! This week, the Balloononians make a rare live appearance with a short set at Everything Was Beautiful And Nothing Hurt: A Kurt Vonnegut Jr. Tribute, Thursday Sept. 22nd at Precinct (70 Union Square, Somerville, MA 02143).
We are very excited to premiere three new songs detailing the Balloononians run-ins that parallel Vonnegut's tales: our encounter with the strange "Tralfamadorian" race, our off-task, poetry-loving navigation computer "EPICAC," and our warning to avoid touching "Ice-Nine" at all costs!
While we cannot yet provide any of these musical tales in recorded form (you'll just have to come to the show to hear them), we do also offer you a brand new Space Balloons song for your enjoyment. "(I Want) Dessert For Breakfast" is the story of the Space Balloons encountering an odd purple creature who demands only to eat dessert for breakfast. We do manage to convince him to reconsider…
About Space Balloons:
While napping after a particularly hearty meal of grapes, Balloononian Admiral Sophia, Captain Michael, and Navigator Joe drifted a bit too far off course in their balloon spaceship. Now they wander the galaxy in search of their home planet Balloononia while spreading the customs and culinary interests of their society in song.