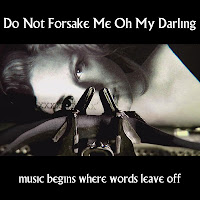 As we mentioned last month Do Not Forsake Me Oh My Darling are recording/releasing 12 covers in 2012 on a monthly-ish basis! Last month, to kick things off, we released our cover of "Cover Me" by Bruce Springsteen.
This time around we offer you our cover of Sweet Dreams (Are Made of This) by the Eurythmics. We conceived this as a duet (look out for a lot more of those as this project goes on) with Glenn di Benedetto of Parlour Bells. This was our first musical collaboration with Glenn, who directed our video for First We Take Manhattan (and is our co-star in our soon-to-be-sitcom Special Friends).

Glenn claims he'd been itching to collaborate musically for a while: "I had been looking to collaborate on something with Sophia for quite some time. (Sophia's note: let's face it, we all thought our first musical collocation would have been Foreigner's "I want to know what love is" after having spent an entire evening drunkenly working out our parts to it) Having spent enough hours sitting at their kitchen table working on videos and eating Indian food, it was only a matter of time before we broke into song. And then it just took off. Adam 12 played it on Undercover on WFNX, and then it spent a couple weeks in the Top 5 on Boston Emissions on WZLX while I already had a Parlour Bells single in the countdown at the same time. We obviously had created a sexy little monster of a cover."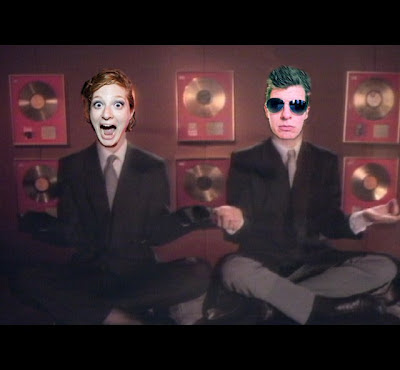 The idea was really spawned as a way to celebrate Glenn's birthday (as DNFMOMD and Parlour Bells were scheduled to play together). Sweet Dreams is a song that every note and word and inflection is already scored into everyone's brain, so it was certainly easy to learn on the fly. Back to Glenn: "While I could drag on about the terse minimalistic beauty of Annie Lennox's haunting lyrics, that would just be glossing over the fact that it is a very easy song to learn and we had little time to rehearse. We planned to perform a duet live at my birthday show, so I certainly didn't want to do anything we could fuck up. I mean, it was my birthday." Anyway, we recorded it quickly, and as Glenn already noted above, it had a little bit of a streak on the local stations.
I've always loved Sweet Dreams – it was always a song that I would turn up super loud in the car and sing at the top of my lungs, so it was a very natural song for me to do – the lyrics are so simple, but really moving and also pretty dark (as we were all unfortunately reminded of when Marilyn Manson did his cover in the '90s.) Glenn and I love this song so much we even sang it together at karaoke (and yes, we over-thought this so much that we both wore suits.)
Next up for Parlour Bells is the 33rd Rock 'n' Roll Rumble – a time-honored Boston tradition that Do Not Forsake Me Oh My Darling participated in last year. Their night is April 4th at TT the Bears. More Parlour Bells: