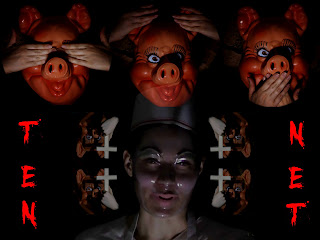 Thanks so much to the amazing folks who have contributed to our Kickstarter campaign! We're always about 48 hours behind on sending out thank you videos, but we promise, they are on the way and apologize if you were looking forward to watching Sophia and I make silly faces at you.
To celebrate the 50% mark in the campaign, we decided to do a one-day special rewards deal!
TODAY ONLY (8/27), limited to 4 maximum, for a $500 contribution (use the Lipstick on a pig reward category and e-mail MJE@MichaelJEpstein.com to specify that you've done this), Michael (Director) and Sophia (Production manager) will do a one-day music video shoot (shot on Panasonic HDC-HS900 High Definition Camcorder) for your band (or help with a short film of any kind) in the Boston area (Inquire for videos outside the Boston area. If travel and lodging expenses are covered, it may be possible) and will do basic editing work to make a final product that yours for sharing with the world! (Depending on concept, you may also have to pay any additional production costs for props, cast, location, etc.) – some examples of their one-day shoot work:
…plus two VIP tickets to a Boston-area screening of the film, a TEN t-shirt, a special, limited-edition DVD of the film (for backers only), signed by cast and crew. A limited-edition physical copy of the score and soundtrack music from the film, signed by the artists, a thank you in the credits at the end of the film plus an official thank you on our blog, web site, Facebook, and Twitter feed.