We're now officially past the halfway point on the Kickstarter campaign for TEN. As I try and process my thoughts on this adventure, I figured it might be nice to share them in case they are useful to others considering giving fundraising a shot.

BACKGROUND
First, let me put this particular project in context. I am primarily a creator of music. I've worked very hard for the past 2 years to bring our music costs down to nothing. This has been relatively effective. As I view Kickstarter not as a way to sell music or product, but rather to fund dream ideas that would otherwise be impossible, I have not found any music project appropriate for a Kickstarter campaign. (See my essay on the topic of what is and is not appropriate for KS campaigns, also published on Music Think Tank.)

However, I've enjoyed making music videos and short films for the past year or so and I find myself in a very specific situation:
1. I have a rare block of time during which my work schedule is highly flexible and I have a little time that I give myself off at the end of each year. This creates an opportunity to do a project that is a little bit intimidating without sacrificing other elements of my life. This won't happen again for a number of years most likely.
2. I have access to an idea with the momentum of cast and crew interest because it is based on a trailer we shot for the Brattle Trailer Smackdown and many involved are interested in working on this idea on a larger, more intensive scale.
3. I have a little extra money saved to cover some of the production cost (but not enough to make it actually happen).
4. I am excited about this!
WHY KICKSTARTER?
1. I only want to make this thing if I can raise the money to do it correctly. I am not going to do it with further compromise. I am just not interested in making something below a certain quality.
2. I can't do it for less money, during the limited available time, at the desired quality without support.
3. I don't want to raise money via investments because I don't want anyone wielding power to alter the artistic vision and approach.
4. Kickstarter is the brand that people are most familiar with. I hypothesize that other sites aren't going to engage people as well, even if they are equal in a technical sense.
INITIAL RESEARCH LESSONS
I read a whole lot about how these campaigns generally go before diving in. Here's what I learned from my research prior to the start of this campaign:
1. Fewer than half of campaigns fund. However, 90% of campaigns that go beyond 30% fund. This seems really odd, but after doing much more investigation and inquiring about campaigns run by friends, I found that most campaigns actually "cheat" and self-fund. That is, they reach, say, 75% of their goal and then have their friend throw in the rest for them (which they repay out of the cash out). This is kind of crap for understanding the true stats, particularly for a situation in which I am intending to use Kickstarter properly (i.e., not create this thing unless the campaign is funded.)
2.  Film campaigns almost never surpass their goal by very much. Generally speaking, the only campaigns that surpass their goals by a large amount seem to be pre-sales – i.e., products. Fair enough. Yes, we are "selling" DVDs of the film, but the reality is, that is not a product that people just want.
3. Nearly all of the money comes in from your already existing base – friends, family, fans. If you don't have a base, you're probably not going to get magical money pouring in (again unless you're selling a product).
So ultimately, you are putting a load on your base. In order to succeed, you need to find a way to excite them, to involve them, and to capture their imaginations.
WHERE ARE WE?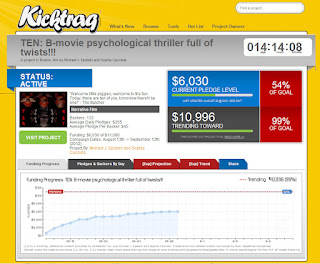 Kicktraq – a Kickstarter stats tool suggests that we are
trending toward falling just short of our goal.
We're half a day past the halfway mark in the campaign. So far, we've raised 54% of our goal of $11,000. (See more stats at the bottom.)
First of all, I am REALLY grateful for having so many wonderful people contribute. I am humbled by the diversity of these people – old friends, new friends, friends of friends, fans, family, fans of horror films, complete strangers, etc. It's a somewhat more diverse group than I expected. The levels of the pledges have been even more surprising to me. I expected far more low-value pledges and almost no bigger pledges. We've averaged $45 per pledge. I am not surprised by that average, but I expected more of a binomial distribution. I expected mostly pledges under $20 offset by a few over $500. So far, more or less, no one has pledged over $500 and fewer than I expected have pledged under $20.
My original expectation was that we'd get several hundred people (200-300) to go in at $5 or so. We have not had the number of backers that I expected, but the backers we have gotten have given more. It kind of balances out. I do like the idea of involving more people, so I do hope we pick up bigger backer numbers, even if they are at the lowest tiers. (I talk more about this here.)
I kind of expected that more people would react and respond to the people who are attached to the project, but aren't the primary fundraisers (Sophia and I). There certainly have been some, but not quite as many as I had expected. I have no thoughts or theory about this.
Most of our backers are referrals from us posting about the campaign on Facebook. I am not surprised by this.
10 THINGS THAT I'VE LEARNED

First, and I don't even number this, because it's the wonderful, positive side. I don't want people to read any of the challenges below (which could be perceived as negativity) without seeing this important piece of context: we have an amazing group of people who have chosen to believe in us as artists. We're asking for money to make a feature film. We've never made a feature film. There isn't even a whole lot out there to show that we're capable of making a feature film (though I am certain that we are). What we have seen is an amazing level of trust and support, a belief that whatever we dream up, can be made possible. I am really moved by that. It's hard for me to even explain it. The kind words, the contributions, the excitement about the project – it's really overwhelming. I love that you've all shown us this. We thank you!
Now, the harder lessons:
1. Kickstarter is NOT an easy way to raise money. Many people are burnt out on contributing to Kickstarter campaigns. It's no longer a novel model. Now people want value or merit for projects.
2. Most people need to hear about your campaign many, many times before they will contribute. It's challenging to come up with new ways to talk about what you're doing without annoying people.
3. You will annoy people by fundraising. There will be a million reasons why what you're doing is bad/wrong/annoying/rude/obnoxious/selfish/stupid/etc. I don't believe there is any way around this. Asking for money brings out haters (people who don't know you well). It brings out inexplicable reactions in some. Maybe it's jealousy. Maybe it's anger that they don't have money or support to create. For us, I am concerned that some filmmakers may become angry that we are endeavoring to raise money for a film without having made many films before. I view creative work as universal, but I understand the idea of encroachment. I probably get annoyed when players on the Red Sox make rock albums or whatever.
4. Asking for money is awkward. We're asking for $11,000 (really $10,000) to make a movie that will ultimately cost $20,000 (the rest of which will come out of our future pockets as debt). We will personally keep none of this money. It will all be paid out to artists who don't make a lot of money so that they can pay their rent while we consume their time. We are going to be paying them badly for their time, but it's the best we can do. Still, it is always going to feel like contributors are giving the money to line the pockets of the fundraisers. It's hard to break that misconception. In short, we're asking for people to help us make this while reducing how much money we lose (so that we can afford to lose it), but it still feels like we're asking you to put money in our wallets.
5. It's very hard to justify spending money to people. The constant response is, "well I know someone who will do that for free." Yes, we can make a movie for free. We are not going to. Why? It's not the movie we want to make. I am not interested in making the movie that I can make for free (or for less money). You would not be interested in seeing it. It would be doomed to be an artistic failure. It's just the reality of it. If I could make it for free, I wouldn't go through this terrible, awkward experience of asking for money. I am not saying people can't make great movies for free. They can, but I can't make this movie at this time for free…and I won't. In the meantime, there are charities more worthy of donation, community crises more worthy of your money, and any number of ideas about how money could be spent on more charitable affairs. I have to convince myself not to feel bad asking for this money while these things are happening. It's a challenge.
6. You'll make everyone feel guilty! I just said essentially that this project rides on your shoulders. It actually does, but I don't want anyone to feel guilty about that or feel coerced to contribute. I don't want to apply social pressure. Some of my friends won't contribute. I won't hold that against them. I am not going to judge anyone based on their choice to contribute or not. I want that to be clear, but it's hard to make people believe it.
7. If it fails, you'll feel guilty! I've spent this entire campaign trying to get people excited about a film that might not be made. They've earmarked money for it. Yes, if the campaign fails, I don't keep their money, but I kind of promised them something and then took it away. I've had a few contributors already say that despite giving very generous contributions, they will personally feel guilty if this doesn't get funded.
8. You may have to decide where the actual funding cutoff is. Will I "cheat" in the rest if we reach 75%? 80%? 90%? I hope not to have to decide. This is really genuinely just a flaw of the Kickstarter model. There needs to be a minimum project goal and then a series of target goals. I guess people do feel the guilt of the single target, but it doesn't really make sense. In fact, our goal is to raise $20,000 (which we never will), but $11,000 is our listed minimum.
9. People like personal interaction. We've been sending thank you videos to all of our supporters and have had a lot of very kind responses to them. We want to make sure that each contributor knows how much they mean to us. Each supporter is not just another number – not just a tick up on our funding meter, but rather a person that is essential to making this movie a reality. We want people to be part of it. We want this to feel like a hive-willed project. People really like becoming part of something creative. A lot of our contributors are people who are not really active artists, but are people that want to make sure that art is made. This gives them an opportunity to be a part of the creation of something. I have only once (out of almost 50 campaigns I've given to) gotten a personal message from the fundraiser. I'd like to think that personal interaction should be a standard here to make every contributor into an essential piece of the whole. One of the things I look forward to the most is sending updates to our backers, answering questions, mailing them all surprises from the set, etc. I can't wait to build my relationships with them. I can't wait for them to see the whole process and then finally, join us for the unveiling of the final piece.
10. It's really hard work. Sophia has actually put more time in than I have, but with making the videos, writing blog posts, posting on social networks, sending personal videos, etc., we probably could have gotten jobs that would have paid better than the money we've raised. Some might say it's not worthwhile then, but as in 9, it's less about the $ and more about the backers. If we worked an extra job to raise the money, we'd have 133 fewer people involved in our process. If you're just looking for $, save yourself the time and get a second job.
ADDITIONAL STATISTICS
Provided by Kickstarter and Kicktraq.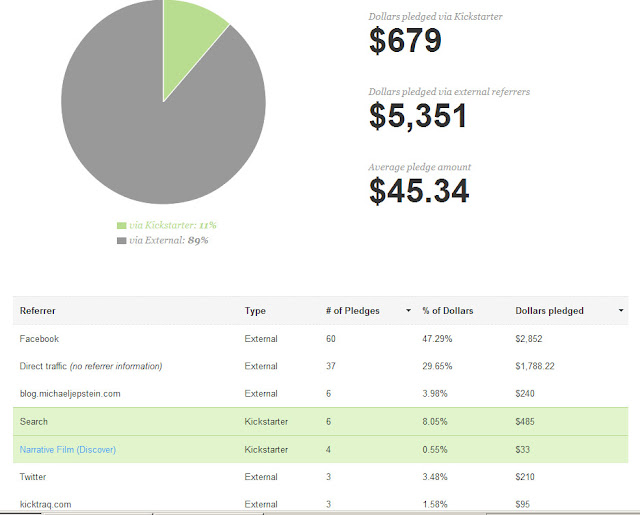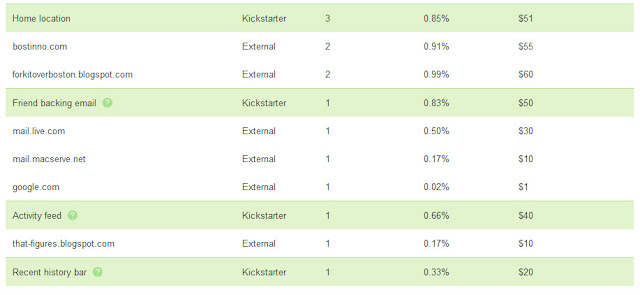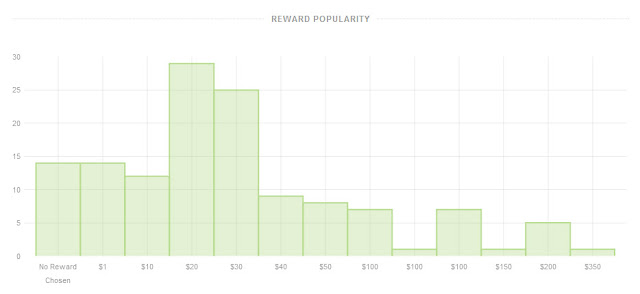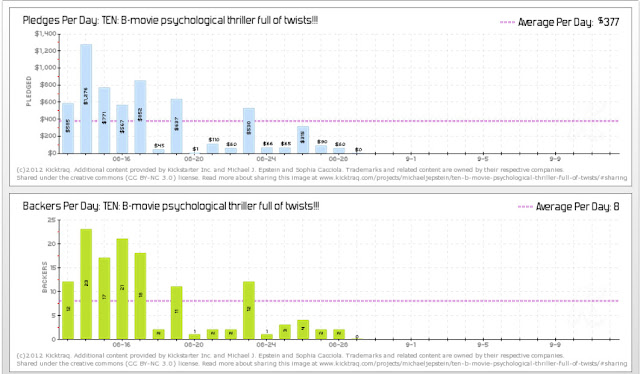 Here's our link again, wish us luck!
http://www.kickstarter.com/projects/michaeljepstein/ten-b-movie-psychological-thriller-full-of-twists