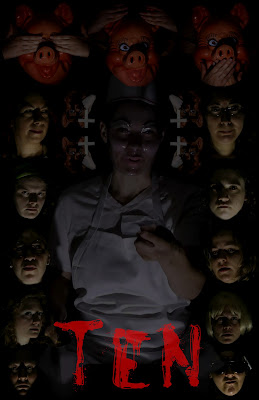 We are currently raising money via Kickstarter to make this into a feature film: http://www.kickstarter.com/projects/michaeljepstein/ten-b-movie-psychological-thriller-full-of-twists
We were psyched to see this screen at: Brattle screening at Trailer Treats! We didn't win the TEN trailer competition (audience voting), but this might be even better: "…this year we've decided to included two "Curator's Choice" places. Event director Andrea O'Meara chose Nicholas Levesque's voodo-ridden B-movie and Brattle Creative Director Ned Hinkle chose Michael J. Epstein's dark-and-stormy-night thriller." – Our video on Brattle's channel.
Now, its here for you…

As we've been having a lot of fun lately making movies, we decided to enter the Brattle Theatre Trailer Smackdown competition this year.
In some ways, this is similar to the parameters of the 48 Hour Film Project that we recently completed. We had far more time to work on this trailer, but we (and all other groups) were assigned the title TEN in celebration of the 10th year of this competition.
We then had an opportunity to choose one element from a list in several categories. Our film is a thriller, has a ghost hunter character, is set in a castle, and includes a slap.
Sophia and I collaborated with Sarah Wait Zaranek on the treatment and script. Our story (set in the 1970s), explores a creepy psychological association with children's nursery rhymes, particularly centered around pigs. There are a lot of complex ideas associated with the imagery that couldn't really be thoroughly examined in a 2-minute trailer, but the premise is that ten individuals (all women) find themselves stranded on an island. They are killed off by a mysterious murderer, The Butcher, soon realizing that the killer is actually someone among them.
There are countless other ideas that would have been explored in a full piece including irrational, unusual behavior as a result of survival paranoia, the many things associated with both pigs (animals, greedy, filthy, overeating, chauvinism) and women as pigs (meat market, etc.). It's kind of a heavy discussion and a bit volatile, and unfortunately, most of it is pure subtext in our 2-minute trailer.
Trailer Treats
7:30 PM; BBQ at 6:30
Tickets $12; $10 for members, students and seniors; Tickets including barbecue supper are $22; $20 for members, students and seniors; No Brattle Passes. Note: Although there will be walkup tickets for the main show, walkup tickets for BBQ will not be available.
The Brattle's summer celebration – now in its 10th year – is back! Join us for a night of fabulous (and fabulously horrible) trailers from the Brattle's collection, terrific tunes, delicious snacks, and, of course, a ton of fun! This evening will also feature the finalists in our TRAILER SMACKDOWN competition (click here for registration info) and you, the audience, will get to vote for a winner! Come early and join us for barbecue (vegetarian and traditional!) from Blue Ribbon and some ice cold 'Gansetts!
More behind-the-scenes production photos coming soon…

Credits:
Director/Editor/Effects: Michael J. Epstein
Writers: Sarah Wait Zaranek, Michael J. Epstein, Sophia Cacciola
Production Manager: Sophia Cacciola
Art Department/Props: Sarah Wait Zaranek, Sophia Cacciola, Michael J. Epstein, Dezrah the Strange
Key Grip: Catherine Capozzi
Lighting Assistant: Zoë Haber
Photography: Rachel Leah Blumenthal
Score: Catherine Capozzi
Singer: Zoë Haber
Starring:
UnAmerika's Sweetheart Karin Webb
Jade Sylvan
Rachel Leah Blumenthal
Rachel Hock
Jolene Maria Thomas
Catherine Capozzi
Deborah Haber
Linnea Herzog
Sophia Cacciola
Sarah Wait Zaranek
Many more photos below the cut…
| | |
| --- | --- |
| | |
| | |
| | |
| | |
| | |