Lovingly referred to by cast/crew so far as TEN Mansion (we were protecting its identity during shooting in order to make sure it remained a very closed set) our main location for the shooting of TEN Movie was Beach Mansion in Barrington, RI. Built in 1895, Beach Mansion is a 9000 sq. ft. Victorian-style mansion that we believe was built by a family named Repetti (as based on the dedication in the  Music Salon with a beautiful, unplayable Steinway from 1898 and a cloud painting in the 3rd floor hallway ceiling that is signed "Repetti"). The house was full of original details – hand-painted leather wallpaper, mahogany everything, beautiful bathrooms and fireplaces, blown glass doorknobs, glittering chandeliers and so many other details everywhere. My favorite detail (and one that sealed the location as being ideal) was the full suits of armor in the billiards room!
Check out Rachel's photos from around the mansion:
There it is. You can go and spend a weekend there (hey, go when it's warm and enjoy the beach!) and think of us redecorating the entire place with pigs and making a crazy movie in 10 days. Also, we have heard rumor that an LA production is shooting there for two weeks soon, BATTLE OF THE BEACH MANSION MOVIES!!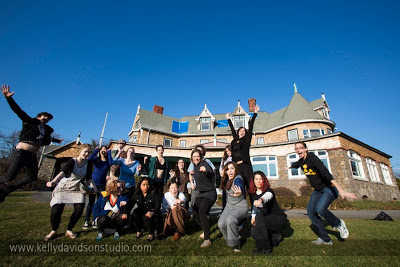 photo by Kelly Davidson Savage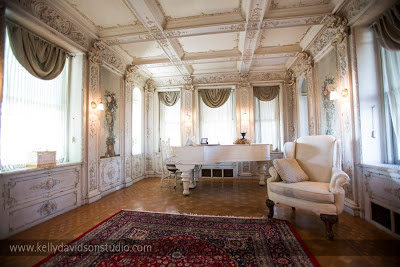 the most beautiful room ever, the music salon photo by Kelly Davidson