Day 6 was our first of 2 (or maybe 3) huge ensemble cast days. We had to get two major, long scenes in 2 settings done on Day 6 (the first day with Karin and Leah both back after Day 2).
First, we had to shoot all of the arrival/meeting stuff at the beginning of the film. This was a very tricky section of the movie to write. Most movies rely on some mechanism for getting all of the characters to stand around and introduce themselves to one another. We worked to find a mechanism for the characters to stand around and NOT introduce themselves to one another. It is important (for reasons that are too spoilery) that we don't go through a standard introductory, revelatory section of the movie. So, we chose to begin the scene in the middle of a conversation  between a group of the characters and to introduce additional characters via bizarre arrival/doorway interaction sequences. The scene sets the stage for much of the interplay between characters and for the audience to gather what role each character might play in unfolding the film's plot. There are also a few teasing moments that hint at elements of the MacGuffin of the film.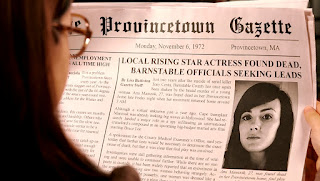 It was a long scene to shoot and a difficult room to light! We tried to use sunlight a little bit, but it didn't really work out so well. One nice surprise bonus was that the religious fanatic (Molly Carlisle, who, as there are two Mollys in the cast, earned the nickname Churchy via her role) makes her first big splash, as a response to the consumption of a ham sandwich (actually a fake vegan alternative), by declaring that pigs are unclean and not to be eaten. She follows this up with a list of animals that one is permitted to eat. I may have fallen to the ground laughing during one take of this speech. In fact, I had to lick my own shirt while these lines were delivered so that I could gag myself sufficiently as not to burst into laughter. Kelly left the room several times. Sound recordist Joel Edinberg took advantage of a break he had to create a dance remix of this speech titled, "Roe Deer."
After completing the arrival scenes, we moved on to a complex party scene that took place in one of the best rooms at the Beach Mansion, the Repetti Music Salon. I made yet another of my famous, here's an impossible shot to pull off, now let's do it declarations! I wanted to show a time lapse of the party using a rotating jib camera shot with a clock that indicates time lapsing during each full rotation through the room. As each of four turns occurred, characters were repositioned (or missing) appropriately. I crouched down on the floor, under the clock, popping up to change the time as each camera pass occurred. Here's a video from my point of view of the shot.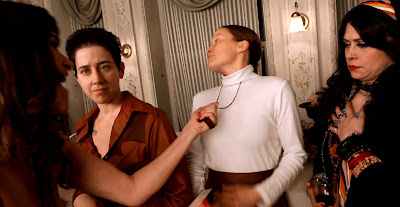 Finally, the party scene included the performance of a song that I wrote (as a little bit of a tribute to the song in And Then There Were None – at the 2:30 min mark) called "Hush Little Piggies" (music adapted from the traditional lullaby Hush Little Baby – as I wanted to keep lullabies and nursery rhymes as a part of the texture of this film). During this scene, Leah's character removes her clothing, becoming the first "true" voice in the film. She berates each of the others, revealing what she thinks they are hiding. I considered this to be one of the most difficult and important moments in the movie. It creates the first of a few turns in tone/feel. I wondered if we'd be able to find a way to deal with the awkwardness of the scene and piece together a performance that worked, but instead, I found that take after take, Leah completely nailed the performance. She improvised actions and movements that sold every moment of it and all of the remaining cast reacted and adapted perfectly. We got this done in about half as many takes as I expected (and half the time) and I am totally happy with the result (I've actually already done a rough edit on this even and I love it!).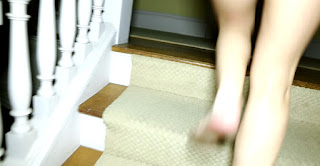 Finally, we also shot the same character running off up the stairs. Having also edited those scenes, it was the first time in my life (and hopefully the last) in which I had to make compromises between the different takes that either contained too much genitals or the accidental reveal of a yoga mat sitting in the corner of the hallway. I think I ultimately found a take with minimal genitals and zero yoga mat. I am admittedly glad that we most likely won't need to worry about getting this movie rated by the MPAA. They might demand more yoga mat.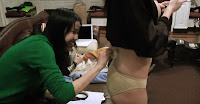 As the movie is set in 1972, one of our big concerns was hiding tattoos (except one character who was written to have them). This was a pretty big project (particularly for the nude scenes), but Pearl Lung did a great job covering them (and dealing the sensitive locations of some of them)!


The TEN days of shooting:
Overview
Day 1, December 4, 2012 – Wingaersheek Beach – Gloucester, MA
Day 2, December 6, 2012 – Beach Mansion – Barrington, RI
Day 3, December 7, 2012 – Beach Mansion – Barrington, RI
Day 4, December 8, 2012 – Beach Mansion – Barrington, RI
Day 5, December 9, 2012 – Beach Mansion – Barrington, RI
Day 6, December 10, 2012 – Beach Mansion – Barrington, RI
Day 7, December 11, 2012 – Beach Mansion – Barrington, RI
Day 8, December 12, 2012 – Beach Mansion – Barrington, RI
Day 9, December 13, 2012 – Beach Mansion – Barrington, RI
Day 10, December 14, 2012 – https://mjeml.michaeljepstein.com/ – Somerville, MA
Extra Inserts/Pickups Day, March 3, 2013 – Sophia Cacciola's House of Wax – Somerville, MA