Day 7
Some people (named Kelly) considered this day to be the most torturous. This is because we shot for almost the entire day in one room (many scenes) and it was the hardest room to light and work in. It's quite difficult to talk about the scenes we shot without revealing major plot elements, so instead, I'll mostly just show you some moments with a few vague captions and words. Enjoy!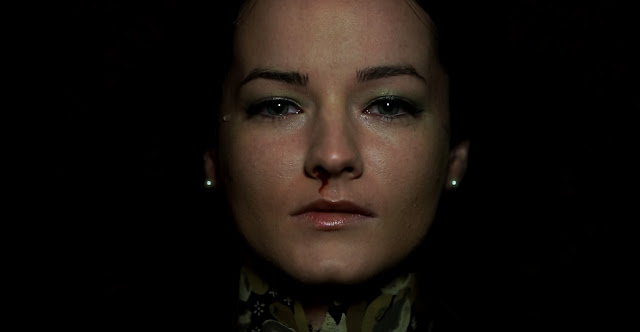 Last words. An amazing performance by Kerri Lynch – can't wait to share this!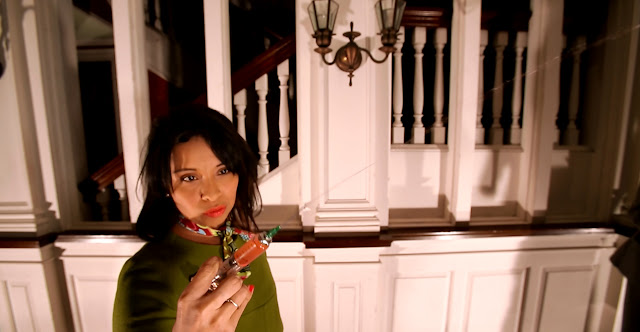 Time for your medicine!
We had a really fun time getting props for TEN. One of my favorite items was a set of vintage Ukranian glass syringes (that came with needles). I also purchased special blunt needles for all of the injection scenes. The idea is that blunt needles are real needles, but are not sharp enough (and are actually a little too wide anyway) to puncture skin (or at least you'd have to push REALLY hard). They are commonly used for using syringes to draw and transfer liquids, but not for doing any kind of actual injection into someone. Along the way, there was a misunderstanding when I sent people off to assemble the doctor's bag of bottles and vials. They opened and assembled all of the needles (which were never intended for use or even handling during the movie shoot as they are extremely dangerous) and syringes. Only one person stabbed themselves with a needle (yikes yikes yikes), but luckily no real injuries occurred. Once I heard about it, I went and disassembled the needles/syringes that we needed for the shoot and tried to figure out how to store the rest. Even though they were not used, I was very reluctant to throw away medical-grade needles for fear that someone would get hurt by them. I was also kind of uneasy leaving assembled needles/syringes around for fear that someone would come to check on us and think there was drug use on set (there was not). Anyway,  these are some of the funny things that happen when you make movies I guess. In the end, we used the blunt needles and stabbed some people with them. No one got hurt.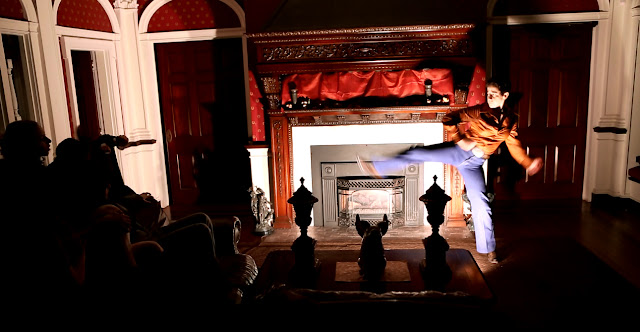 Kung Fu!
There was no Kung Fu in the original script, but if you can't try to Kung-Fu kick a ghost in a '70s-style movie, why do we even exist?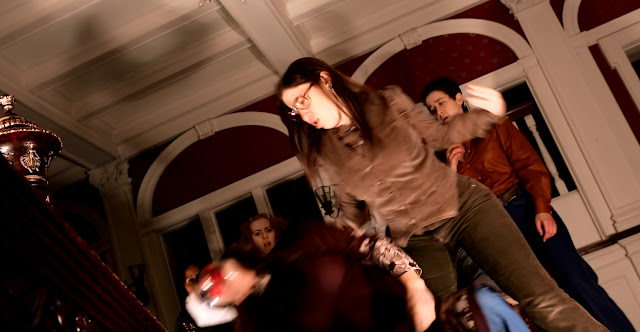 Neck breaking!
The movie was written to include some minor fighting and really minor stunts. The original idea was to resolve all of these things using quick cuts and very minimal actual danger. However, the cast wanted to give some of these things a more serious shot. It turns out that Karin has a lot of experience with stage fighting and was able to choreograph several complex moments in the movie including this neck breaking scene. I was scared, but again, no one got hurt. We even did it about 10 or 12 times!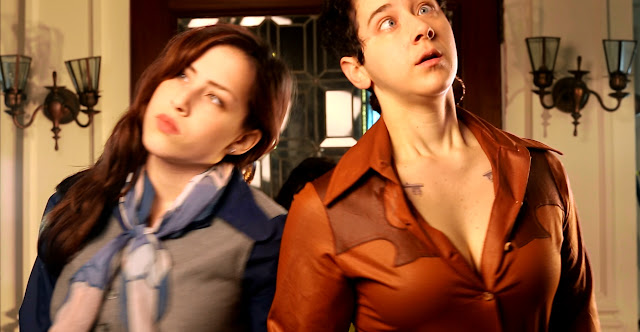 Knocked out!
Sometimes, in this movie, it becomes evident that I like cartoons too much. This may be one of those moments. A classic knockout.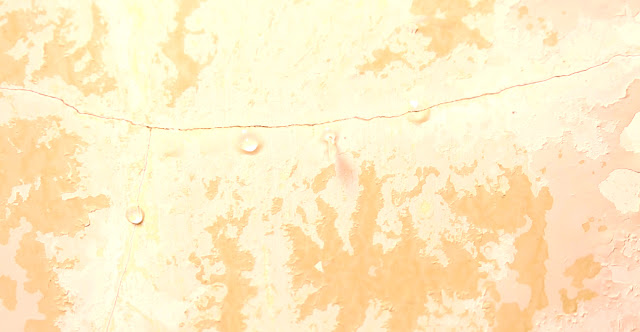 We really lucked out for one scene. The scene calls for the ceiling to be leaking. We had planned to just shoot it using an eye dropper (as in the shot below), which I used to drop water on to Dalya, but we had the good fortune of finding a leak on the Friday prior that we shot as an insert. So, we didn't need to worry about creating a fake ceiling at a later time!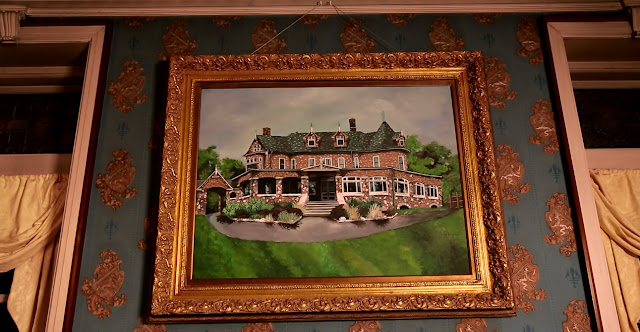 The Beach Mansion has a painting of the Beach Mansion. It is kind of exciting and I hope we'll be able to pull of a Citizen-Kane-style transition between a nice exterior shot and this painting.

The TEN days of shooting:
Overview
Day 1, December 4, 2012 – Wingaersheek Beach – Gloucester, MA
Day 2, December 6, 2012 – Beach Mansion – Barrington, RI
Day 3, December 7, 2012 – Beach Mansion – Barrington, RI
Day 4, December 8, 2012 – Beach Mansion – Barrington, RI
Day 5, December 9, 2012 – Beach Mansion – Barrington, RI
Day 6, December 10, 2012 – Beach Mansion – Barrington, RI
Day 7, December 11, 2012 – Beach Mansion – Barrington, RI
Day 8, December 12, 2012 – Beach Mansion – Barrington, RI
Day 9, December 13, 2012 – Beach Mansion – Barrington, RI
Day 10, December 14, 2012 – https://mjeml.michaeljepstein.com/ – Somerville, MA
Extra Inserts/Pickups Day, March 3, 2013 – Sophia Cacciola's House of Wax – Somerville, MA